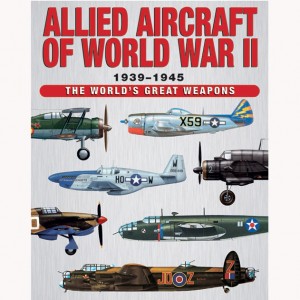 Illustrated with outstanding colour profile artworks, Allied Aircraft of World War II is the definitive study of the aircraft of all Allied powers from 1939 to 1945. Arranged in two parts; Allied Fighters and Allied Bombers and then by theatre of war, the book describes in depth the various aircraft for different nations, from the RAF to USAAF, from Soviet to the Brazilian Air Forces and many more.
Featuring aircraft that served from Australia to the Aleutians, from the French border to Okinawa, more than 400 cooler artworks illustrate both the famous and the lesser-known aircraft (fighters, bombers, transports and reconnaissance) from a large array of services and nations.
With information boxes accompanying the artworks, Allied Aircraft of World War II is an excellent reference work for modellers and any enthusiast with an interest in the history of World War II.
240 x 189 mm 500 artworks and photos 9781782742074