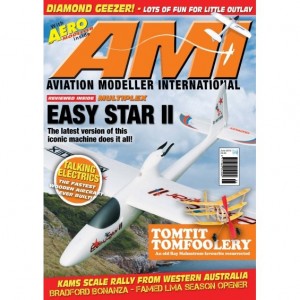 Volume 17 Number 7
PREFLIGHT
Heard at the Hangar Doors
SHOPTALK
New products review
BRADFORD BONANZA!
Alex Whittaker's feasts his camera on the LMA's famed season starter
TOMTIT TOMFOOLERY
An old Ray Malmstrom favourite resurrected
DIAMOND GEEZER
Lots of fun for little outlay – old fashioned aeromodelling you might say!
MULTIPLEX EASY STAR II
Superb for raw beginners – huge fun for all skill levels and a great platform for cameras and FPV installations – the latest version of this iconic machine does it all!
WESTON PROSYNTH GLOW FUEL
Eight Years Down The Line On Weston Prosynth 2000!
TALKING ELECTRICS
Two thousand hour's worth of terrific twin – the fastest wooden aircraft ever built!
INCOMING
Reader's Talkback! Got a beef, useful comment, or sound advice on any aspect of the hobby that you'd like to pass on?
GET INTO CLUBMAN PATTERN
Recent discussion with your Editor has lead to me being able to make a return but on a slightly different footing!
LAKE & MORELAND
Leek and Moreland Model Gliding Association, Annual Scale Bash
KAMS SCALE RALLY
Bruce visits a no-fuss scale event hosted by the Kalamunda club in Western Australia
WHAT, WHERE, WHEN
Classified events diary
MILLER'S TALES
Wee Mad Arthur – an impromptu full size display and some showing off this month!
WEBWALK
Mike Evatt scours cyberspace once more
VIABON 2012
Picture library and full results of this years Viabon Contest from Mike Woodhouse
WELCOME TO ARIZONA FOR THE SWR
Morning's were just a little crisp but 70+ and gentle breezes made for a great competition!
BESTSHOT
Topflight P47 Thunderbolt on its test flight built by Paul Rice for customer Steve Kendall.
AN EXCEPTIONALLY FINE F1J
Mike Evatt reports on Mick Lester's winning power model and reviews the final results of the BMFA Championships
CUTTING VINYL
Graphitec Silhouette Cameo Vinyl / Die Cutter review by Lindsay Todd
VINYL COVERING
Covering models in Vinyl by Chris Dorling