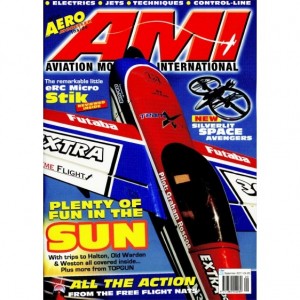 Volume 16 Number 10
Pre-flight
Heard at the Hanger Doors
Shoptalk
New product review
Incoming
Reader's Talkback! Got a beef, useful comment, or sound advice on any aspect of the hobby that you'd like to pass on?
Intermodellbau Dortmund 2011
Gerard travels south to Dortmund for his annual shopping spree
Postcards from old warden
Alex Whittaker takes his camera to the Model-Air Moulton – Boddington Memorial Days, 2011
Space the final frontier?
Bruce Corfe looks at two new space-themed helicopters from Silverlit
Wonderful Weston
Bigger and bolder – superb flying and a great family day out
More Florida fun
Alasdair Sutherland leaves the damp British summer behind and grabs a little Florida sunshine.
Talking Electrics
An EDF stingray to match its turbine powered stablemate
Bestshot
Dawn Patrol – Chris Poysner's evocative Sopwith Pup
Give it some stik!
Bruce Corfe revisits the eRD micro-models stable and wrings out its new Micro Stik!
What, where, when
Classified events diary
Fancy moving up to something a little larger – follow Tony Hooper MBE – UK Large Model Association CAA Liaison officer
Miller's Tales
More power for less money – always a recipe for success!
Webwalk
Mike Evatt enter cyberspace once more
Aeromodeller
Bowden blow out!
Alex Whittaker takes his camera to the famous Free Flight crash-fest
BMFA Free Flight Nationals
Mike Evatt reports on a weekend of challenging flying weather at Barkston Heath with a review of the space events contributed by Mike Francies
BMFA Free Flight Scale NATS
Bad weather meant that two competitions had to be run together – Alex Whittaker was there with his camera.
The Mayfly Weekend
A cracking meeting – team swiller's tribute to Ron continues apace!