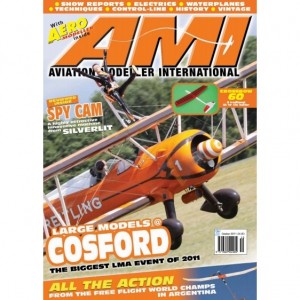 Volume 16 Number 11
Shoptalk
New products review
Incoming
Reader's Talkback! Got a beef, useful comment, or sound advice on any aspect of the hobby that you'd like to pass on?
What, Where, When
Classified events diary
Silverlit Spy Cam
Silverlit step up to the plate with another surefire winning combination!
Cosford Conundrum
Alex Whittaker presents his photo-report from the biggest LMA event of 2011
Model Flying in the Tropics
From the last outpost of the empire – John Johnson recalls the way we were!
Crossbow 60
Paul Jubb finds himself a delightful traditional builders kit that goes together quickly and performs superbly!
Splashing Around
Scottish lochs and Scheider specials!
Cutting It
With a PC now commonplace at home, producing your own decals has never been easier – Linda Hewitt shows how!
Talking Electrics
Superbly built – a large electric Nieuport with close to ten minute flight times!
Drop In And 'Chute Me Down!'
Young Clarence, 'Le Petomane' Thunderbutt takes the leap of faith!
Abingdon Classic Jets
Super snapper Pete Dawson trains his long lens on some of the best jets in the country
Fous-Volants Maquettes Show
Our expatriate Brit reporter checks out the Flying Fools modelfest!
Miller's Tales
Working oleo's take the sting out of the spring when landing – a tough model for tough fields!
Webwalk
Mike Evatt surfs the World Wide Web once more
Aeromodeller
Barton Bash
Wet and Windy – it's the Mancunian Way!
World Free Flight Championships
All the action from Embalse, Argentina
Bestshot
Electric powered large scale Cessna
For Old Times' Sake
An all Australian design benefit from Hunter Valley
The 1st F/F Team Trials
Mike Evatt reports on first FF Team Trials in June and catches up with UK and World Competitions
Jets, Rockets and Flying Saucers
Space – the final frontier – to boldly go where no modeller went before!