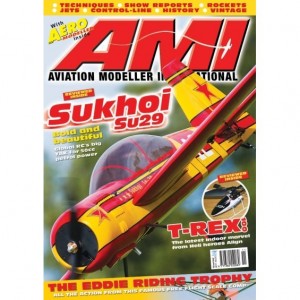 Volume 16 Number 12
Preflight
Heard at the Hangar Doors
Shoptalk
New products review
Incoming
Reader's Talkback! Got a beef, useful comment, or sound advice on amy aspect of the hobby that you'd like to pass on?
T-Rex in da house
Bruce Corfe looks at the latest indoor marvel from Heli heroes Align, the T-Rex 100S
AVRO Commodore
An interesting 'British Waco' designed and modelled by Dave Chinery for electric power
What, Where, When
Classified events diary
Silent Wings
Maestro Chris Williams checks out some superb sailplanes at the Thames Valley Aerotow
Sukhoi SU29
Simon Wright goes bigger and better – petrol power is still king at these sizes!
Maynard Hill Extraordinary Aeromodeller
The first successful crossing of the Atlantic Ocean by a model aircraft
Turbine Trends
Don't get in a flap with your flaps – Alasdair Sutherland gives insight as to their function
Welshpool Model Show
A fantastic flying feast in Beautiful Border Country – it doesn't get any better than this!
Think of a number
PART 9: control Surfaces, Flutter and Aeroelasticity
The Art of the Swapmeet
Swapmeets are fun, frugal and fantastic for gleaning a bargain, Lindsay Todd goes shopping on a shoestring
Miller's Tales
Iron on coverings have been with us for a while but Peter takes things a step further with 'iron on' construction!
Webwalk
Mike Evatt scours the cyber-surf again
Aeromodeller
Eddie Riding 2011
Alex Whittaker takes his camera to this celebrated outdoor Free Flight Scale Competition
For Old Times' Sake
From down under, Don Howie visits Middle Wallop – looks at low cost engines post WW11 USA and traces the OS Pet heritage
Bestshot
A Grunau Baby 2b snapped by AMI's slope columnist, Paul Jubb.
F2B Home International
Magnificently manicured Barton play host to F2B
Sava River Tour
10th BELGRADE CUP for Space Models July 16 and 17, 2011, Lisiciji Jarak, Belgrade, Serbia
A Plastic Clunk Tank For All Reasons
John Benzing puts together a plastic clunk tank that will work in any control line stunt model