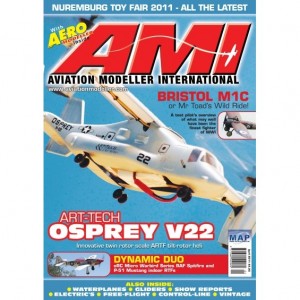 Volume 16 Number 5
NUREMBURG TOY FAIR 2011
All the latest and greatest from Europe's biggest model trade show. Nuremberg 2011 proved as popular as ever!
BRISTOL M1C or "Mr Toad's Wild Ride!"
A test pilots overview of what may well have been the finest fighter of WWI
ART-TECH OSPREY V22
John Thompson reviews this quite unusual twin tilt-rotor scale ARTF helicopter
DYNAMIC DUO
eRC Micro Warbird Series RAF Spitfire and P51 Mustang. Bruce Corfe reviews a brace of indoor, ready-to-fly micro warbirds that really work!
SILENT WINGS
An airing of ailments, dolly-dropping drama and Rhonsperber rhapsody make up this up this month's every-day story of silent-scale folk!
TALKING ELECTRICS
A super four engined scale model reviewed and vital reader queries answered
SPLASHING AROUND
Practical parameters for successful scale R/C waterplanes is our main talking-point this month
WRIGHT MEMORIAL 2010
Liverpool District Model Aircraft Club's Winter Warmer!
LIFT TICKET TO LUNDY
Ian Mason hops on a boat with a few mates and finds
slope nirvana
MILLER'S TALES
EBay voyeurism, D.I.Y. drilling tools from piano wire –
and a memorable Pitts Special resurrected
WEBWALK
Mike Evatt walks the digital highway once more
THE RASCAL SRS
Mike Parry digs deeper into the resurgent 'Rascal' phenomenum
2010 BMFA FREE-FLIGHT FORUM
Mike Evatt reports on the latest BMFA Free Flight Forum and pays tribute to a well known free-flighter
COSMO DEMONSTRATION TEAM 1954-1963
Stan Robinson winds back the clock over 50 years to his days as a COSMO member at Danson Park in south east London
COMING OUT OF HIBERNATION
Paul Winter checks over his control line equipment to avoid any disasters in the forthcoming flying season
FOR OLD TIMES' SAKE
Vintage gliders explored, and a look at early British model aero engines