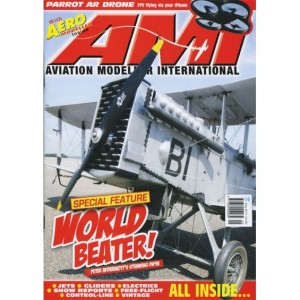 Volume 16 Number 6
Best Shot
Stunning model flying image
Pre-Flight
Heard at the Hangar Doors
Shoptalk
New products review
What, where, when
Classified events diary
Incoming
Reader's Talkback! Got a beef, useful comment, or sound advice on any aspect of the hobby that you'd like to pass on/
World beater!
Peter McDermott's stunning DH9A
Parrot AR Drone
A true FPV/UAV for your iPhone
XMAS Scale at Barkston
Alex Whittaker freezes his accessories off, but nevertheless, has a great time.
Talking electrics
Andrew Gibbs features a beautiful Bowers Fly Baby and tames a temperamental twin – to BEC or not to BEC?
Silent wings
Bigger is better – Chris Williams makes the case for larger scale sailplanes whilst highlighting the shortfalls of their full size sections!
Turbine trends
Crosswind capers and terrible take off's – Alasdair Sutherland helps to keep you on the straight and narrow!
Wrexham fly in 2010
All the fun with none of the hassle – Wrexham Club's annual bash is a friendly affair!
Model diesel engines and their accessories
'Flash Back' – the fifties, sixties and seventies.
Miller's tales
Peter Miler finds himself in a sticky situation – Ebay bargain? Beware!
Webwalk
Mike Evatt enters cyberspace once more
Doing the bling thing: The electric indoor masters, 2010
Alex Whittaker attends the most prestigious indoor R/C event of the year
Is this the one to beat?
Mike Evatt checks out a high flying F1G and reviews the 2010 Open Rubber League
For old times' sake
A cache of post war cabin models – Keil-Kraft, the early days
61ST SW Regionals
An escape to the winter sunshine of Arizona for free flight action
Back to the '30s with… Model Aircraft Builder
Almost forgotten in the mists of time, a very short-lived American modelling magazine is the subject for review this issue.
The 2010 US NATS
After an eight year gap, Paul Winter and John Benzing paid a return visit to the US Nats