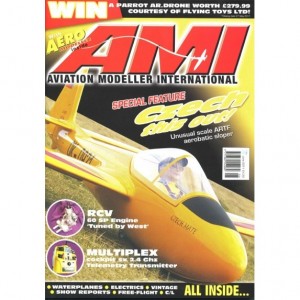 Volume 16 Number 7
Pre-Flight
Heard at the Hangar Doors
Shoptalk
New product reviews
Incoming
Reader's Talkback! Got a beef, useful comment, or sound advice on any aspect of the hobby that you'd like to pass on?
Multiplex cockpit SX 2.4 GHZ Telemetry Transmitter
The best budget transmitter just got better – Multiplex's definitive Cockpit SX stays atop the pile!
RCV 60 SP 'Tuned by West'
A decade on, the RCV 60 SP has come of age and could be the perfect engine for your classic warbird!
Splashing around
Get your umbrella's out – Alasdairs Sutherland hints and tips to avoid wet weather blues!
Czech this out!
A very attractive and unusual scale ARTF aerobatic sloper proves a most satisfying subject for scale detailing.
Talking Electrics
And now for something completely different – a superb Corsair – a carrier classic!
Auto and Technik Museum Sinsheim
Not so much under the same roof as atop it – not one but two SST's!
WIN, WIN, WIN
Flying Toys competition
What, where, when
Classified events diary
Sleap tight with the NW Warbirds
Narcoleptic Alex Whittaker goes to Sleap
Miller's Tales
A question of balance – Peter Miller works it out in pencil but needs a rubber!
Webwalk
Mike Evatt walks the web once more
AEROMODELLER
Max Men International
Mike Woodhouse's annual trip to 'sunny' California – this year he took the British weather with him!
Vintage Eurochamps 2010
Holger Menrad reports the Old Timer event held in Czech Republic
2nd Stage… Interspace 2010 – 2020
Stuart Lodge brings you up to date with the latest in Model Rocketry
Bestshot
A spectacular Spruce Goose from down under
Coupe Europa 2010
Mike Evatt reports the Coupe Europa 2010, alerts you to the BMFA Indoor National Championships and reviews a fascinating aeromodeller's autobiography
Appleby's aeroplanes a catalogue from the 1920s
Before balsa – Cardboard, wire, silk and even feathers were preferred materials for the intrepid aeromodeller of yesteryear.
For old times' sake
Super sparkers from the thirties – glow gems from aross the pond and some delightful diesels!