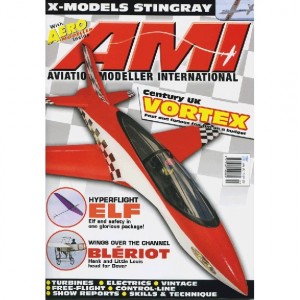 Volume 16 Number 8
Pre-Flight
Heard at the Hanger Doors
Shoptalk
New products review
Incoming
Reader's Talkback! Got a beef, useful comment, or sound advice on any aspect of the hobby that you'd like to pass on?
Hyperflight Elf
Jewel Like and very cool – small in stature yet huge in performance – Elf and safety in one glorious package!
Century UK Vortex
Fast and Furious fan fun on a budget.
Wings over the Channel Blériot 2011
Henk and Little Louis head for Dover
Soldering
Basic skills series with Peter Dawson
LMA Bradford Symposium
The Large Model Association (LMA) Symposium has a new home at Bradford: Whittaker investigates.
Turbine trends
The best of British take a trip to the Sunshine State
Talking Electrics
Grab a Tiger by the tail – Nick Butler's superb F18 – Batteries, to cycle or not to cycle, Andrew Gibbs explains.
X-Models Stingray
Before its time and ahead of the game the X-Models Stingray was originally destined for full size production!
Miller's Tales
Roll your own – Dutch rolls – it's all Double Dutch to Peter!
What, Where, When
Webwalk
Mike Evatt enters cyberspace once again.
AEROMODELLER
BMFA free-flight scale NATS '11
Alex Whittaker attends Nottingham University to clock this year's midget gems.
Prepare for the British free-flight nationals
Mike Evatt looks forward to the Free flight Nationals, catches up with the Croydon Wakefield Day and reviews the 2010 NFFS Symposium Report
Bestshot
Nathan Farrel Jones' Jetcat making a low pass at Delyn
Holiday on ice
There's no such thing as the wrong weather – just the wrong clothes!
Looking Back… MBZB Cup
Andy Sweetland reports from Hard, Switzerland, on this popular F2B World Cup contest, held on 21-22 August 2010
For Old Times' Sake
Don circumnavigates the globe to take in SAM 1066