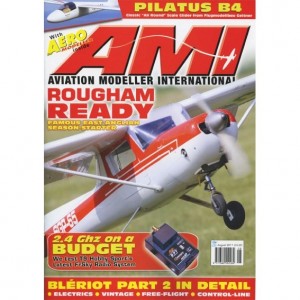 Volume 16 Number 9
Pre-Flight
Heard at the Hangar Doors
Shoptalk
New products review
Incoming
Favourite old transmitter – fed up with queuing for the peg – worried about getting shot down – can't afford all new gear – 2.4 Ghz on a budget from T9 Hobby Sport
Rougham Ready
Alex Whittaker attends this famous East Anglian season-starter.
Splashing around
A Canadian Super Cub and a few timely tips on how to keep your nose above water
Silent Wings
Chris can't shake the Habicht at this years Seige Cross Aerotow
Macrihanish 2011
Marvellous, misty and mysterious and miles from anywhere.
Bleriot
Building the half scale Bleriot by Henk Van Hoorn
Pilatus B4
A classic "All Round" scale glider from Flugmodellbau Geitner
Talking Electrics
Superb scratch built SR 71 and new life breathed into an old Stan Yeo favourite!
Miller's Tales
Need a canopy for a new project or an old favourite? Peter shows you how this month.
Webwalk
Mike Evatt walks the web once more
Aeromodeller
Vintage combat @ RAF Scampton
Gladiatorial and glorious combat at the home of the Dambusters!
The Stonehenge Cup 2011
Mike Evatt reports on the Stonehenge Cup and a new Coupe D'Hiver Challenge
Bestshot
Ole Steen Hansen's Red Zephyr
For old times' sake
A Marvellous Model Shop – Black Magic Beauty – Glorious Gas Buggy's and Fabulous Frogs!
Viabon
Philippe Le Page rubber days at Viabon February 2011
What, Where, When
Classified events diary