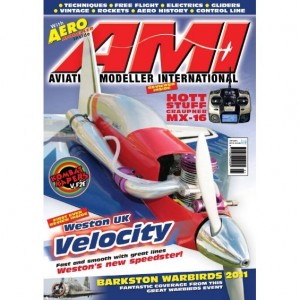 Volume 17 Number 2
PREFLIGHT
Heard at the Hangar Doors
SHOPTALK
New products review
INCOMING
Reader's Talkback! Got a beef, useful comment, or sound advice on any aspect of the hobby that you'd like to pass on?
CONVINCING CORSAIR
Alex talks to Richard Dalgleish about his terrific Brian Taylor Corsair
WESTON UK VELOCITY
Faster than the elusive Neutrino – smoother than George Clooney and better lines than Keira Knightley – Weston's new
speedster!
GRAUPNER MX-16 HOTT TRANSMITTER
Hot Stuff From Graupner – Ben Jones uses Graupners new system to win this years Nats Pylon!
WHAT, WHERE, WHEN
Classified events diary
TALKING ELECTRICS
Welcome back to another issue of Talking Electrics, where we will be discussing electric flight again. The theme this month is
that of old designs, converted for modern electric power
SILENT WINGS
Filling in the spaces
GONE VIRAL: BARKSTON WARBIRDS 2011
Alex Whittaker takes his camera to this extremely popular warbirds event
THINK OF A NUMBER
PART 11: Wind Tunnels (1): History, design and operation
FLEDGLING LUNDYITE
Fancy something a little different by way of a holiday – Mike Evans chills out on Lundy Island!
MILLER'S TALES
Frustration and misery down on the patch – a tale of woe!
WEBWALK
Mike Evatt enters hyperspace once more
AEROMODELLER
BOULTON PAUL DEFIANT
A 60" span standoff scale control-line model for .40 to .50 size engines, utilising corrugated card construction techniques
SAVA RIVER TOUR Part 2
1st FENIX CUP for Space Models September 10 and 11,
2011, Vincovci, Croatia
50 VIDEOS FOR A RAINY DAY
The world of model aircraft on YouTube
BESTSHOT
Martin Brigg's magnificent Robbe Schweizer Hughes 300c
FOR OLD TIMES' SAKE
A Day At Winwick and a plethora of memorable engines
KOMBAT KAPERS V F2E
And now for something completely different – Mikes Latest Kaper!
A FREE FLIGHT WORLD CUP ' EN POITOU
Mike Evatt reports on a major FAI event in France and catches up with some more results
TEMPUS FUGIT
Time Flies, looking back 75, 50 and 25 years ago in The Aeromodeller