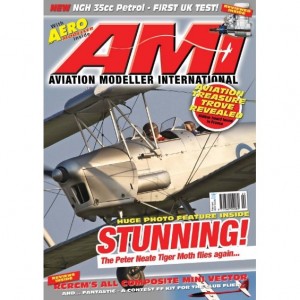 Volume 17 Number 3
PREFLIGHT
Heard at the Hangar Doors
SHOPTALK
New products review
INCOMING
Reader's Talkback! Got a beef, useful comment, or sound advice on any aspect of the hobby that you'd like to pass on?
OLD SCHOOL CHARM:
THE PETE NEATE TIGER MOTH
Alex Whittaker brings news of Peter Neate's Tiger Moth, now flying again
RCRCM MINI VECTOR
A tough and pretty little bird with all the moves – Julian tries RCRCM's smaller rendition of an old favourite
VROOOM… NGH GT 35/GT35 R ENGINE
The small model petrol engine comes of age
TALKING ELECTRICS
Welcome back to another issue of Talking Electrics, where once more, we'll discuss the fascinating subject of electric powered model aeroplanes!
AN ANJOU ODYSSEY
Expatriate aviation buff Dave Goodenough finds buried treasure in the Loire valley!
A DRAGONS TALE FROM PEN LLYN
A bone fide 'Area of Outstanding Natural Beauty' and with model flying too – it doesn't get much better than this! LLeyn MAC Bring and Fly September 2011 – Power Flying
ROCHDALE INDOOR MEET
Alex Whittaker attends the first Rochdale meeting of the indoor season
GAYDON 2011
Tony Hooper reports from what has become a premier LMA event – pictures Neil Huchinson
WHAT, WHERE, WHEN
Classified events diary
MILLER'S TALES
Peter finds himself between a rock and a hard place – from GARTF to a Radian Pro
WEBWALK
Mike Evatt walks the digital highway once more
FANTASTIC P30
A fine performing kit for the class
MIND THE LINES!
Two World Cups down the road, Barton favours a more homely field with a little support from north of the border this time around
BESTSHOT
Fans of the Nieuport 17 will immediately recognise the inspiration for the beautifully built and finished Flair Legionnaire
A GERMAN FREE FLIGHT HOLIDAY
Mike Evatt reports on major FAI events in Germany
SAVA RIVER TOUR PART 2
Stuart's 33rd Ljubliana Cup comes up trumps with the weather, venue and the models!
TEMPUS FUGIT
Time Flies, looking back 75, 50 and 25 years ago in The Aeromodeller