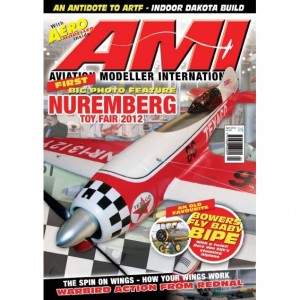 Volume 17 Number 5
PREFLIGHT
Heard at the Hangar Doors
SHOPTALK
New products review
INCOMING
Reader's Talkback! Got a beef, useful comment, or sound advice on any aspect of the hobby that you'd like to pass on?
NUREMBERG 2012
Massive Nuremberg Toy Fair photo spread
BOWERS FLY BABY BIPE
Bert Van Eijk's unusual twist on an old favourite surprised every one at this year's Scale Nats…
MY CORCORAN CRACKER
You see, smell or hear something that sets a chain of consequence in motion. My mates gifted pile of old Aeromodeller Annuals did just that and there were consequences…
TALKING ELECTRICS
Geoffrey DeHavilland's Dragonfly – Current Confusion – Resistance Is Futile!
INDOOR DAKOTA
An antidote to ARTF
THE SPIN ON WINGS
Part 1: Do you understand the similarity of lift produced by an aerofoil and a spinning ball in flight? Considering the explanations offered for wing lift, this is unlikely. The lifting spinning ball or Mangus Effect, however, is fundamental to how wings work
ROTOR WASH
When the engine quits the only way is down – Ian Contessa explains how to do it safely
REDNAL WARBIRDS
NW Warbirds extend their tentacles to ever more venues, Alex Whittaker reports
WHAT, WHERE, WHEN
Classified events diary
MILLER'S TALES
More Than Just A Motor Glider – Peter's Fab Fornier
WEBWALK
Mike Evatt straps on his cyber-shoes once more
ZAUNKONIG
A great electric slow flyer, and a rubber version too!
IN SCALE CIRCLES
Bernard Gets A Handle On Things
THE EUROPEAN C/L CHAMPIONSHIPS
Mike Tries His Hand at Round The Pole(s)..!
BESTSHOT
Mick Henderson's magnificent 1/4 scale Airco DH9a
FOR OLD TIMES' SAKE
Interesting Models – a Dizzy Diesel and some Fabulous Frogs
AN ALPINE END-GAME
Mike Evatt reports on the World Cup Finale in Bern and reviews the final placings in the 2011Free Flight World Cup
LOST' ENGINE
The Motor Cycle – a tale of friendship and historical lust by Dave Goodenough
TEMPUS FUGIT
Time Flies, looking back 75, 50 and 25 years ago in The Aeromodeller