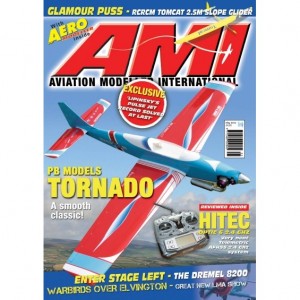 Volume 17 Number 6
PREFLIGHT
Heard at the Hangar Doors
SHOPTALK
New products review
PB MODELS TORNADO
Tired of the same old hackneyed ugly 3D ARTF look alikes? The PB Tornado is a smooth classic!
GLAMOUR PUSS
RCRCM Tomcat 2.5M Compostie Slope Glider reviewed by Paul Jubb
HITEC OPTIC 6 2.4 GHZ
Perfect for beginners and a great knock about radio for the slope
RECORD MYSTERY
A jet mystery solved at last by Giancarlo Mensa
DREMEL 8200
Life after Dremel
SILENT WINGS
Terrific Topaze gives way to Petrel power!
AL'S HOBBIES PROFESSIONAL SERVO TESTER
This neat little device is perfect for both workshop and flight box, providing the user with a readily available high-performance facility for evaluating or testing servos and ESCs
THINK OF A NUMBER
PART 13 – From the Jurrasic period and Archaeopteryx, birds have constantly evolved, so perhaps we can learn something from them!
THE SPIN ON WINGS
Part 2: Fredrick Lanchester proposed his theory of lift based on 'circulation' while the Wright brothers' were still flying gliders – never be misled by the ubiquitous abuse of Bernoulli's theorem!
MY LARGE LILAC LOVELY
You mend it – you bend it – always it was thus!
INCOMING
Reader's Talkback! Got a beef, useful comment, or sound advice on any aspect of the hobby that you'd like to pass on?
LMA ELVINGTON
The LMA has yet another new show venue: Alex Whittaker and camera took a peek
WHAT, WHERE, WHEN
Classified events diary
MILLER'S TALES
Glow-Clips that stay affixed – wheels that spring and props that slice – a mixed bag from Peter this month!
WEBWALK
Mike Evatt walks the web one more time
UNDER THE VELODROME
Whittaker enters alien Mancunian territory to investigate the BMFA's latest indoor venture
TEMPUS FUGIT
Time Flies, looking back 75, 50 and 25 years ago in The Aeromodeller
BESTSHOT
Ali Machinchy's JetCat 160 SX turbine powered Eurosport Vectored Thrust 3D on a zero feet pass.
TO COMPETE OR NOT TO COMPETE
The Wessex Aeromodellers League
COUPE EUROPA
Mike Evatt reports on the Coupe Europa and the final standings in the Southern Coupe League