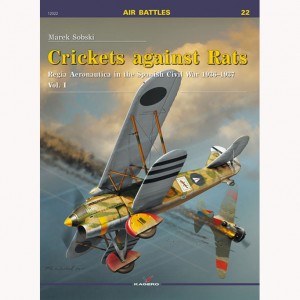 Regia Aeronautica in the Spanish Civil War 1936-1937 vol. I
In mid July of 1936 Benito Mussolini could consider himself an accomplished man.
His risky game with the conquest of Ethiopia ended with success. In May of that year Italian army triumphantly entered the capital of this country, Addis Abeba. Mussolini announced from the balcony of Palazzo Venezia the establishment of the new Italian Empire. Italians rushed to Ethiopia to make fortunes and rest from the provincial boredom. The Duce was popular and Italian navy and air force were the strongest in the Mediterranean region. On 15 July the sanctions imposed by the League of Nations against Italy during the conquest of this African country were lifted. The proposal of lifting of all sanctions was submitted by England itself. This way the world's greatest colonial power approved Italian conquests and was offering the hand for reconciliation, at least apparent. The General Assembly of the League of Nations acclaimed the proposal. The Ethiopian war lasted 216 days and the economical siege of Italy – exactly 240 days.
275 x 205 mm 110 archive photos, 10 colour profiles 9788364596162