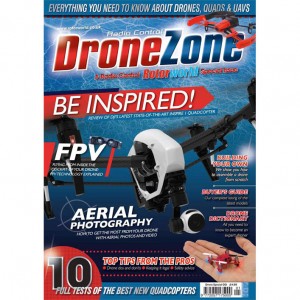 Radio Control DroneZone
Published March 19th 2015 available now direct from us!
Are you into quadcopters, hexacopters, octacopters, UAVs or drones? Fancy having a go at FPV racing, mastering aerial photography or filming interesting locations from the air? Need help building or setting up your multi-rotor? Confused about which model to buy? Worried about staying on the right side of the law? Then you need a copy of the latest Drone Zone special issue from the publishers of RC Rotorworld, the UK's best-selling model helicopter magazine.
Drones have hit the headlines recently as their popularity increases and people find a wide variety of uses for them. A key driver in the drone explosion is just how easy they are to fly. Thanks to the inherent extra stability offered by multi-rotor designs and the developments in electronic stabilisation systems, drones can be flown by almost anyone. And if they have built-in GPS they can even be programmed to fly a mission before returning home autonomously.
Another exciting development that's being more widely used in multi-rotor drones is First Person View, often referred to as 'FPV'. Using a built-in or mounted camera system, the pilot can fly their remotely controlled model as if they are sitting in the cockpit by watching the relayed video feed through a transmitter mounted screen or special headset device which offers a whole new dynamic way of piloting a multi-rotor model.
This special issue of Drone Zone offers expert buying advice, reviews of the latest machines and accessories, tips on where and how to fly safely, in-depth features on aerial photography and video, build tips and technical articles, as well as general features on subjects including GPS, FPV and electronic systems.
Features include:
New product reviews
Buyer's guide to the latest models
Technology features on FPV and aerial photography
Building your own drone from scratch or kit
Drone dictionary with a full list of words, acronyms and terminology
Plus, experts tips on drone dos and don'ts, safety advice, staying within the law, setting up and how to fly
With all this focused content and more, Drone Zone is a must buy special for all UAV, drone, quad and multi-rotor enthusiasts! Don't miss out, order your copy online now