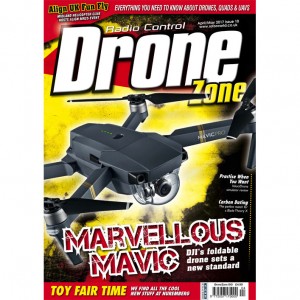 Features
10 Time To Build
Out not such a newbie drone flyer Shaun Taylor decides its time to up his
game and begins his build of a custom FPV racer.
14 Nuremberg Toy Fair
All the major players from the drone market were out in force at the
annual Nuremberg Toy Fair in Germany, and naturally Drone Zone were
in attendance to see all the new products from the big and established
brands, through to the newer ones aiming to break in to the market…
28 Practise at Home
With the new VelociDrone simulator, not only can you get some flying time
in at home, but also it's a great tool for learning new skills and avoiding
those costly breakages.
34 Through the lens
The Hubsan H502E X4 Desire is on our centre spread this issue. Priced at
under£120, the GPS-enabled model is feature packed, benefitting from
a 720P HD camera, six-axis gyro and return-to-home function amongst
others.
36 Team RGB
People get into drones for many different reasons. Take someone from
the RC industry, a professional photographer and a senior software
developer, add a common interest of drones and what you have is Team
RGB.
40 The MR25 Challenge
The fi rst UK version of the Align Fun Fly took place at the Midland
Helicopter Club ably supported by 360 RC Technologies that saw Align
MR25 drones take the sky for a day of fun and frolics.
48 DZ Visits…
Flying Drones is one of DJI's UK distributors and a great place to for any
drone geek. Tom Stacey headed out to rural Essex to meet David Taub, the
man behind the company.