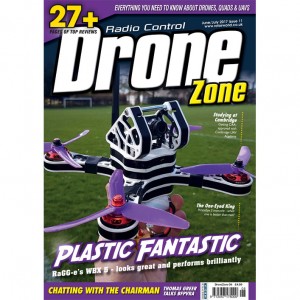 Insight
8 Front Page
Breaking news stories from the world of drones, multi-copters
and UAVs.
26 What's New
The latest new drones, products and accessories launched for
this growing market.
62 Buyer's Guide
Our comprehensive listing of available multi-copters in
all classes.
66 Contacts & Info
Information and contacts that will help you get the most from
your drones.
Features
10 Diary of a Newbie
This issue sees Shaun Taylor take the big step onto building his
own quad and the challenge that it offers.
22 PirateEye 2
Drone Zone tests the latest FPV monocle glasses that offer
something a little different to the usual goggle set-up.
28 Cambridge UAV Academy
Shaun Garrity takes his first steps into attaining a commercial
qualifi cation as we team up with the highly respected Alan
Perrin and the Cambridge UAV Academy.
34 Through the Lens
This issue sees the stunning Kyosho Drone Racer in action across
the centre spread of the magazine.
36 Thomas Greer Interview
As the FPV racing scene continues to grow, so is the need for
rules and a regulatory body. The British First Person View Racing
Association is headed up by Thomas Greer so who better to
speak to and find out what is happening with the BFPVRA.
Reviews
16 RaGG-e WBX 5
Carbon fibre continues to be the perceived best material for
high-performance, but RaGG-e have a very different theory with
their HDPE frames. Following on from our 200H review, we now
get our hands on the WBX 5.
40 Kyosho Drone Racer
The Kyosho Drone Racer certainly stands out from the crowd
with its distinctive looks and the Japanese brand offers a very
different solution to learning to fl y as we found out.
46 Blade Theory Type W
As flying wings continue to gain interest due to long fl ight times
and high speeds, we got our hands on the latest model from
Horizon Hobby called the Theory Type W that is made from
Z-Foam that combines FPV racing and high-performance.
52 DJI Phantom 4 Pro
The Phantom shape is synonymous with drones and whilst the
silhouette may appear not to change, the names and spec does.
Tom Stacey gets to fly the latest Phantom 4 in Pro guise and tests
the new features.