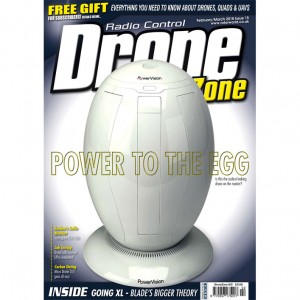 Insight
6 Front Page
Breaking news stories from the world of drones, multi-copters
and UAVs
24 What's New
The latest new drones, products and accessories launched for
this growing market
60 Buyer's Guide
Our comprehensive listing of available multi-copters in all classes
66 Contacts & Info
Information and contacts that will help you get the most from
your drones
Features
10 Heads Up
The manufacturer of the iWear HD goggles has recently
released a new 5.8GHz diversity FPV receiver to their line-up
so we thought that it would makes sense to give our readers an
overview of the Vuzix range.
20 Show Time
Bringing us bang up to date with his drone activities, Shaun
Taylor refl ects on his recent purchases, reviews and feature
writing, as well as hinting at a new direction for his hobby…
42 Drone Lab Evolved
We put the latest Drone Lab race spec LiPos to the test,
comparing the new Evolved packs against our experience
with the older models.
Reviews
14 PowerVision PowerEgg
The PowerEgg from PowerVision is unsurprisingly one of the
most standout designs of drone currently available. With onetouch
take off and return-to-home functions, as well as gesture
recognition remote control, this is a very intuitive consumer drone.
26 E-flite X-Vert VTOL
Fancy a wing that has the ability to take off and land vertically?
Then the X-Vert VTOL from E-flite could be exactly what you are
looking for. Priced at under £200 the RTF is a great package that
offers lots of fun, and has the capability or FPV if you choose to
go down this route with the optional Spektrum FPV video monitor
and headset.
36 Micro Drone 3.0 Carbon Fibre Racing Kit
There is little doubt that the Micro Drone 3.0 is a popular and
very capable little machine. But now it comes in kit form complete
with a carbon fibre frame meaning that it will have greater
appeal to the experienced flyer, whilst remaining easy to fl y for
the beginner.
44 Eachine E50
Targeting the selfie market, the E50 from Eachine not only takes
great photos, but it flies well too. And all for around £35! But is
this too good to be true?
50 Blade Theory XL
The XL is Blade's biggest Theory model to date based on a
stretched-X frame design and supplied as a Bin-N-Fly format
complete with Spektrum transmitter. Shaun Garrity charges up
some LiPos and hit the flying field as he puts the Theory to the test.