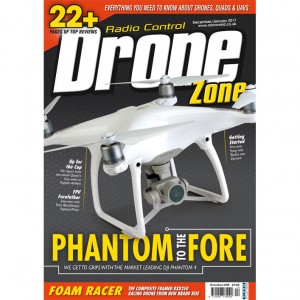 Features
12 The BlackSheep of FPV
David Stock talks to a very interesting young man called Raphael Pirker
who has pushed the boundaries of drone flying and developing the FPV
principle. With stunning videos to his credit, he explains how recreational
flying led to him becoming a top FPV pilot and onto developing the Team
BlackSheep brand.
28 The Queen's Air Race Challenge Cup
We report back from the event that saw an incredibly tough course laid out for the very best pilots in the UK to show off their skills on. Not only would the winner be awarded the cup, but also a place on the team for the drone racing World Championships in Hawaii was also up for grabs.
34 Through the Lens
The DJI Phantom 4 tops many a drone pilot's wish list and so it was a
natural choice for this issue's centre spread.
42 ProSight Insight
Ahead of the full review in the next issue of Drone Zone, we put some
questions to the Connex team about their ProSight HD system.
58 Diary of a Newbie
This month Shaun Taylor ups his game as he gets to grips with Fat Shark
goggles and some FPV flying. As his experience grows, so does the
challenges as he and some friends try their hands as drone racing and
although the of crash to or two, Shaun always seems to have lots of fun.
Reviews
20 RISE RXD250
As the name suggests, the RXD250 is a 250-class quad that they claim
targets the expert-level and the racing sector. Although the RXD acronym
is RISE Xtremely Durable, this is a lightweight stripped down design based
around a high-impact foam and carbon fibre mix frame to create something
that will handle all the crashes and bangs expected in drone racing.
36 RaGG-e 200H
New kids on the block RaGG-e enter the scene with their 200-size H frame
model that uses High Density Polyethylene to form the frame so its not only very durable but remains light weight and can be cut from a wide choice of colours.