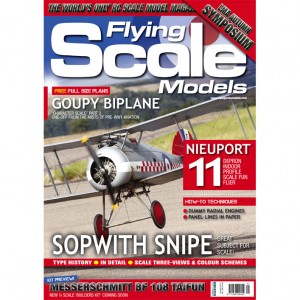 4 CONTACT
Just for starters
6 LMA AUTUMN SYMPOSIUM
Ken Sheppard reviews the LMA 'show and tell' meeting at the
National Heritage Museumwhich, once again, hits the right note…
14 SUBJECTS FOR SCALE: SOPWITH SNIPE
First conceived as a 'smaller camel', the Snipe entered service
with the R.A.F. as very much an enlarged variant of its forebear
18 SNIPE SCALE DRAWINGS
1:40 scale three-views
20 SOPWITH SNIPE FLYING COLOURS
Squadron colours, both during WW1 and after.
22 SNIPE IN DETAIL
Close-up detail study of the example currently on display at the
Royal Air Force Museum, Hendon
28 GARY SUNDERLAND 1934-2016
Australia's foremost scale modeller remembered
30 MESSERSCHMITT Bf 108 TAIFUN
Ken Sheppard previews SLEC's 1:4 scale kit designed by Robin
Woodhead for 26-40cc petrol engines
34 MESSERSCHMITT TAIFUN
SCALE DRAWING
Super fine-line scale three view in 1:50 scale by Arthur L. Bentley
36 TYPE HISTORY: MESSERSCHMITT Bf 108
From its shape, the Taifun is identifiably a Messerschmitt, but less
aggressive and employed for somewhat less aggressive purposes
40 DUMMY RADIAL ENGINES
Bernard Seale's step-by-step approach to construction of his
1/6th scale Bristol Jupiter VI. Follow his technique, which is
generally applicable
46 NORTH BERKSHIRE SCALE DAY
Club scale action
50 GOUPY BIPLANE PART 2
Concluding the construction of Peter Rake's electric powered
model of an unusual pre-WW1 aircraft
54 PANELLING IN PAPER
Ian Bailey reveals his method of achieving realistic airframe
surface panelling, plus rivet lining and weathering
58 TECHNOSCALE
Cyberspace review by Mike Evatt
60 THE QUIET ZONE
Peter Rake offers a Depron foam profile scale Nieuport 11 for indoor wintertime flying fun.