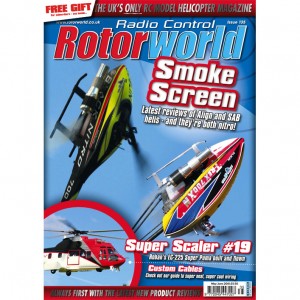 Reviews
10 Align T-Rex 700XN
The latest Align is a nitro-powered 700-size model that is sure to appeal
to those who love the noise and smoke, combined with Align's renown
skills to produce a high-performance frame.
24 Roban Model EC-225 Super Puma
The Super Puma is Roban's 19th release in their Super Scale range and
one of the most recognisable in the sky. Measuring in at 1700mm long
and powered by a 12S LiPo with a 450Kv motor, this heli proved to fl y
great and wasn't slow either!
48 SAB Goblin Black Nitro Sport
Without compromising performance whilst reducing the price is a tough
ask but SAB think they have hit the nail on the head with their new Sportspec
700-size nitro heli. But what do we think?
Features
20 F3N National League Round Up
Duncan Osbourn and Jamie Dawe take the respected Pro and Sport
Class F3N National titles as the 2017 league wrapped up with the fourth
and fi nal round at RAF Barkston Heath.
36 Crossed Wires
Mike Szabo from Canada runs through the process of tidying up your
helis wiring and at the same time, adding a custom look using some
readily available cheap accessories.
42 Orlando Heli Blowout
Not only does the OHB event attract a top entry from the home-based
pilots, but many of Europe's best head over the Atlantic to the east coast
for one of the fi nal big heli shows of the year.
56 Nuremberg Toy Fair 2018
Late January is all about the annual Nuremberg Toy Fair and 2018 was
no different as we jumped on a plane and headed to the Messe to see
what the attending members of the RC industry had to offer…
Regulars
03 Rotorworld Subscriptions
Get your favourite RC heli mag delivered to your door.
04 Word of Mouth
The latest issue – a great mix of scale and nitro!
08 Straight Up
The latest news and information from the world of RC model helicopters.
18 Cutting Edge
We show off all the new helis, components and associated products.
34 Through the Lens
One of Roban's awesome Super Scale models, the EC-225 Super Puma.
63 Coming Up
Check out forthcoming events for the next few weeks.
63 Next Issue
An insight into some of the features planned for issue 135.
64 UK Buyers Guide and Classifi eds
The best model heli shops, products and services.