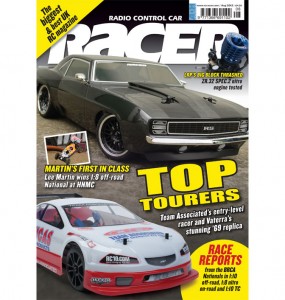 Features
16 Take Two
Round two of the Nationals was an opportunity for Olly to improve upon his Cotswold result where he felt he got the best from himself and car. Find out how he did at Stafford on page 16.
24 Pull-Start Powerhouse
Phil McMahon takes the LRP ZR.32 SPEC.2 nitro engine to the limit in this month's test session.
32 Cragg Takes Charge
A dominant performance from Team Associated's factory racer Neil Cragg at Southport saw him take maximum points in both 2WD and 4WD with class drives on both days at the BRCA 1:10 Off-Road Nationals.
44 A Durango First in TC
Elliott Harper gave the prototype Team Durango DETC410 a notable modified class victory at the 2013 BRCA 1:10 Electric Touring Car National Championships as the series kicked off at Cotswold whilst in stock Zak Finlay who took the TQ and win. Stefan Chodzynski reports with all the news and inside gossip from round one.
52 Lee's First At Round One
Herts Nitro Model Club would host the first round of the 2013 BRCA 1:8 Off-Road Nationals and when Elliott Boots failed to make it through to the final. Lee Martin stepped up and would race to a well-deserved first win in the category ahead of former champ Darren Bloomfield.
68 Honcho Gets Updated
Joe Brown fits a whole raft of option parts to Racer's Axial Honcho review car with parts supplied by Pro-Line, Spektrum, Losi, Junfac, Mtroniks and 3racing. Check out our modified scaler in our four page feature
82 Masters of Touring Car
A new venue for the annual LRP Touring Car Masters saw some of the best on-road racers do battle but it was German Ronald Völker who took victory with his Blue is Better-equipped Yokomo chassis. Jurgen Lautenbach reports in his regular monthly column as well as looking as some new S10 Blast releases.
90 Gloucester Quays Grand Prix
Adrian Jefferies grabbed the opportunity to promote the hobby at a shopping centre and so the Gloucester Quays Grand Prix was born. Some of the best in the UK turned out to compete in a Reedy Race event where the public were treated to great racing and a detailed insight into RC.
96 Green's One-Two
Mark Green took wins at the first two National rounds of the BRCA series at Cotswold and Mendip as the defending champion made a great start to his defence with the very latest Novarossi-powered Serpent 977.
Reviews
38 Vaterra V100-S 1969 Camaro
When we first caught a glimpse of Vaterra's new range at Nuremberg earlier this year, the V100-S chassis–based models were an instant draw with their scale looks at attention to detail. We couldn't wait to spend some time with one and the 1969 Chevrolet Camaro RS was 'the one' we wanted first.
56 HPI Savage XS SS
A micro monster you can build yourself, with all the DNA of an HPI Savage? That'll be the Savage XS SS edition then. Racer builds up this Rockstar inspired version with serious brushless power.
62 Team Associated Qualifier Series Apex V-Type
Using a tried and trusted shaft-drive transmission, the Apex V-Type is Team Associated's new entry-level touring car from Team Associated under their Qualifier Series brand. To find out how it performed on the race track, read our in-depth review.
76 LRP S10 Twister Truggy
Having fun is the reason why so many of us got involved in the RC hobby and we think that the Twister Truggy from LRP is a great way to start out and put a large smile on your face at the same time.
84 Tamiya DT-02 Super Fighter GR Violet Racer
This latest offering from Tamiya is aimed at getting newcomers involved in assembling and running their own RC model. One of Racer's youngest contributors was only too happy to demonstrate this DT-02-based buggy for you.
102 CRC Gen-Xti Altered Ego
Following a successful World Championships in Holland 2012, New York-based pan car chassis manufacturer CRC announced that their brand new 1:12 scale on-road platform, the Gen-Xti would be going to market.