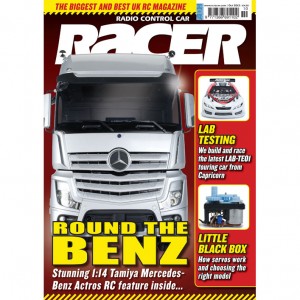 Features
32 Hot and Bothered
Another tough weekend for top on-road racer Olly Jefferies as he heads to the third round of the BRCA Nationals at West London
44 Serving Us All
Servos appear in every RC car out there so is a vital piece of equipment to look after. With many specs available, we look at the main differences and also offer a guide on how to shorten a receiver lead.
52 Bloomfield On Top
Lee Martin finally got beaten in 1:8 off-road as Darren Bloomfield made the most of his reliability to win at Wakefield.
64 Green's Hat Trick
Rounds three and four of the BRCA 1:8 On-Road Nationals saw a third victory in a row for the Serpent of Mark Green before Mugen's Kyle Branson dominated at Cotswold and stopped the winning streak.
70 Elliott Grinds to a Halt
Once again, Elliott Harper looked set to dominate the TC National at West London until two mechanical failures in legs one and two gifted Schumacher's Chris Grainger the win who produced a strong performance with the new Mi5.
82 Party in the Park
The LRP team take a busman's holiday at the High Performance Days show with some of their drift models before the summer party gave the staff and family a chance to relax in the sun.
96 New Centro Success
A dominant performance for the new C4.2 in the hands of Tom Yardy at Broxtowe showed the potential of the car as Lee Martin kept his championship hopes alive for Tamiya in 4WD.
Reviews
THE LATEST THRASH TESTS.
24 Vaterra V100-S 2012 Chevy Camaro ZL1
The V100-S is a great chassis with its moulded tub design that comes equipped with a 4WD transmission and oil-filled suspension. The 2012 Camaro ZL1 is the newest addition to the line-up using this platform and features Dynamite power and a Spektrum radio. Tom Stacey demanded he review this kit to see what we have been raving about since the first one landed on our desk.
56 Quanum Skull Crusher
This is one cheap Almost Ready-To-Run monster truck that retails for under £100, and requires just a few parts to get running. But as we found out, it spends most of the time on its rear wheels, although not to the detriment of fun and it's a huge giggle.
74 Team Associated RC8.2 RS
The RC8.2 took in many changes in competition Factory Team guise and now those updates are filtering through to this Race Spec RTR model. Equipped with top end XP Digital servos and a Reedy engine, this is the best RS spec from the AE team so far as we saw first hand by putting it through it's paces on our private test facility.
84 Tamiya Mercedes-Benz Actros 1851 GigaSpace
It may be a 1:14 scale model but this is one beast of an RC truck that would be as happy gracing the desktop of a company director as it would being driven at 10mph in a car pack preparing to reverse into a tight spot. But get your skills at the ready as this offers a true test of your al round modelling ability as we found out
100 Capricorn RC LAB-TE01
Capricorn RC, the Italian chassis manufacturer ventures away from their established roots in nitro on-road with the LAB-TE01, a four-wheel drive electric touring car. This is an all-out, no compromise, competition chassis intended to compete with the best on offer and is a top quality model for the racing purist.
Regulars
NEWS, LETTERS, DATES, NEW PRODUCTS AND OUR VIEWS.
8 News
The European Championships dominate this month's news with David Ronnefalk winning in 1:8 off-road, and Jörn Neumann and Martin Bayer taking a victory each in 1:10 off-road. Other news includes the announcement that Team Associated will no longer distribute LRP in the US, Ripmax purchase Amerang, Hobby Co to support Ansmann Racing as Logic RC take on the Graupner SJ line.
20 Editorial
What is going on with all these new forward motor motored 2WDs?
20 Letters
Win a Fastrax prize kindly donated by CML Distribution if your letter of the month is chosen.
20 Who, What, When and Where?
Three pictures from the past but who are they?
21 Time Warp
What was happening one, five and ten years ago.
22 Inside Lines
Over nine pages of the very latest RC kits, accessories, hop-ups and more.
73 Coming Up
What you can expect to see in the next month's issue of Racer.
95 Dates
Plan your schedule for the next few months with our racing calendar.
108 Club Racer
The latest racing news from clubs around the UK and overseas action.
112 Buyers Guide
Where to shop in your area with Racer's comprehensive store guide.
114 All Over
No more RC 'touchy feely' for the Old Time Racer…