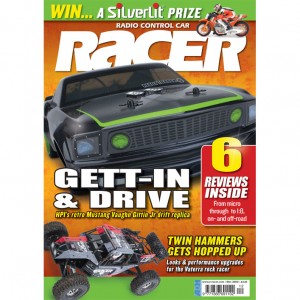 Features
Hammer Time – To say that the Vaterra Twin Hammers model has been a success would be an understatement and we have enjoyed lots of fun with our review sample. Suffice to say, we also were also looking to modify ours a little and add some unique features so with Horizon Hobby UK, Dinky RC and Freqeskinz on-board we gave our long-term review car a makeover.
Toys for the Boys – Silverlit's UK agents Flying Toys sent over some of their latest samples of products that are the sort of thing that get enthusiasts started in RC. Although these low cost models aren't the usual thing you may see in Racer, with some interesting features built in we think that they are well worth a look at and a possible gift for some family and friends this Christmas who are not yet into RC!
Competition – Win a Silverlit "Power in Speed" model in this month's free to enter competition, In conjunction with Flying Toys, complete the word search to be in with a chance of winning a prize.
LMP12 Arrives – Ahead of the coming race season, our own 1:12 specialist Luke Burley looks ahead and analyses the new rules, cars, classes and tracks in his preview of the BRCA 1:12 season.
Crowning of a New Champ – From the moment the 2013 BRCA 1:8 Off-Road National Championship kicked off at Herts, Lee Martin was in top form and many made him their favourite for the first. But with four more events to go and some ruthless competitors eying up the series win too, we had to wait until the final round at Slough when the podium positions would be cemented.
EOS and EFRA Champions – In the world of touring car racing, Ronald Völker is one of the top drivers competing at the highest level. The German is a factory driver for LRP and gets to help develop their products in the on-road racing categories. Allied to the Blue is Better brand, his driving in 2013 has been exception as LRP's own Jurgen Lautenbach looks back at their success at the Euro Touring Series and the EFRA European Championships.
Grainger Grabs His Chance – Heading into the final round of the BRCA 1:10 TC Nationals at Mendip, few thought that Schumacher's Chris Grainger had much of a chance of snatching victory against Team Durango's Elliott Harper who had shown a clean pair of wheels previously. To find out how this unfolded, don't miss our report from the event…
No Wins But Cragg Takes Title – Oswestry in Shropshire would wrap up this year's national series in 1:10 off-road and although the 4WD class had been decide previously, the 2WD championship was still in the balance. The top racers were all present and with places on the podium still to be decided, there were points to be gained on both days. Wins on the respective days went the way of Darren Bloomfield and Lee Martin, but it was Neil Cragg who grabbed the biggest prize.
Reviews
HPI Sprint 2 1969 Mustang RTR-X – Whether it's the drift appeal or the stance, this 1:10 Mustang from HPI will appeal. The RTR model comes pre-painted with a choice of treaded street and drift tyres so you can choose the discipline you wish partake it. But with some neat touches including exposed inlet trumpets protruding through the bonnet, many will argue that a car this good looking could have a place on your shelf too. Well we decided to do the right thing and put it to the test…
Ansmann Racing Virus ST 3.0 RTR – Nitro newbie Justin Noble gets his hands a little more dirty than usual as he picks up his first engine-equipped RC model. Despite his concern and preconceptions, the experience was one that he found invaluable, and wondered why he ever had any worries. No doubt that this was helped by the quality of the product being tested as the Virus models are one of the most popular RTRs in this sector and are well known for their build quality and reliability too.
TIC Racing Terminator GT12 - Hot on the wheels of TIC Racing's first kit the Manic Mini Stox, the UK manufacturer returns with the Terminator chassis. This latest offering targets the growing class of GT12 and using some top racers for input, puts its name into the pile of competitive race cars to choose from. With a local club at his disposal and plenty of GT12 race experience to draw on, Shaun Taylor jumped at the chance to test the new chassis.
Duratrax DRX8-E – The 1:8 electric-powered off-road class continues to develop and Duratrax are the latest company to offer a product in the sector. Supplied as a rolling chassis, the pre-built buggy requires electrics and some paint to get it running. The competition spec car comes with a moulded chassis and some lovely big bore shocks so we fitted our review car out with LRP and Sanwa race spec equipment and hit the test track.
ECX Boost – Believe it or not, the Boost has been around for the best part of two years now so it was no surprise that the 2WD entry-level buggy has been updated. Now equipped with Spektrum 2.4GHz radio and a waterproof servo, its all wrapped up with new look paint schemes in a Ready-To-Run format including all the parts necessary to get up and running.
LC Racing EMB-1 – we first saw the LC Racing range on show at the Nuremberg Toy Fair in Germany on the stand of UK agents, Schumacher. We chose the 4WD buggy for our first review and to say we were impressed would be an understatement. With a high quality spec, we fitted out the chassis with products from LC Racing, Datan and Thunder Power and then headed to a 1:10 off-road track to race the locals!