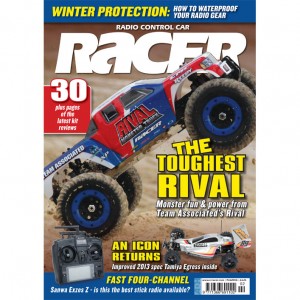 Features
Hartson's Home Run – LRP's Jurgen Lautenbach reports on the addition to their CV of another World Championship win courtesy of Steve Hartson in the USA as well as looking forward to the DHI Cup in 2014.
Talking Telemetry – Improving the World Championship-winning Sanwa Exzes X radio was always going to be tough as arguably the most popular competition-spec stick unit has all the features you could wish for. But thanks to the M12 steerwheel, the new Exzes Z now comes with a telemetry system, LCD and a new processor.
How To Waterproof – Justin Noble looks at waterproofing and checks out the latest offerings from RC Lazy and their new look Lazy Goo that comes in two different colours for the ultimate in colour co-ordination.
Two from Two For OJ – Round two of the LMP12 nationals took place at Stocksbridge and saw Olly Jefferies tighten his grip on the modified championship and Chris Kerswell break his duck for the year, whilst in GT12 Schumacher dominated both days with David Hall and Sam Clifton.
Lee Martin's Mugen MBX-7 – In this exclusive feature, Racer gets a chance to get up close and personal with Lee Martin's Beta-powered, Pro-Line-equipped Mugen MBX-7 buggy that won the BRCA National title in 2013.
Podium Fight – The final two BRCA National rounds at Brookland and Mendip would wrap up the 2013 race season in 1:8 on-road. With the top two spots in the series decided, it would be the final podium position up for grabs.
Scale Trailer – Accessories for 1:10 sized scalers have so far been limited to aftermarket bodies, roof sets, winches and the like. But now Radshape RC can offer an all-aluminium trailer for your scaler just like the one they supplied us that we fitted to our Axial rig.
Two From Two – In his latest diary piece, Olly Jefferies reflects on the 1:12 scale season so far having taken two wins and two pole positions in the modified class.
Reviews
Tamiya Egress 2013 – Another Tamiya icon is re-released with the Egress – a car that was designed to be a racing version of the famous Avante back in 1989. For 2013 the shaft-driven Egress receives a makeover to bring it right up to date with new carbon fibre-reinforced parts, central torque-splitter diff and one-way and ball differentials. Colin Spinner builds up the modern version and reflects on his experiences of the Tamiya 4WD when he was the Tamiya race team manager.
Team Associated QS Rival MT RTR – The latest Qualifier Series model from the range is the Rival Monster Truck based on the 2003 vintage Team Associated MGT. The first MGT's were nitro-powered but this monster is a high-performance electric version. Using the latest technologies like a brushless system, LiPo batteries and 2.4GHz radio equipment, the Rival offers huge power and lots of fun too.
TLR 22 2.0 – As the name suggests, the 2.0 version of TLR's 22 sees the design evolve taking in lessons learnt from the original dual format buggy. Many changes have been incorporated into the design, some less visual than others with the end result being a more stable, easier to drive chassis that with some updated parts gives the customer a more complete package.
Schumacher Cougar KR – We found out that with the 4WD Schumacher CAT K1 the K stood for black so therefore the 2WD Cougar KR must mean black and rear. The KR replaces the SVR rear-motored model and features a new gear diff, industry standard 12mm hex wheels, recessed alloy chassis and a new alloy anti-squat plate, wrapped up in Schumacher's black theme.
LRP S8 Rebel BX 2.4GHz Limited Edition – The latest S8 Rebel BX is a limited edition version of LRP's RTR buggy. Aimed at the first time buyer, this Ready-To-Run nitro-powered model not only will find popularity with those getting into RC, but will provide a suitable basis should they wish to go racing.