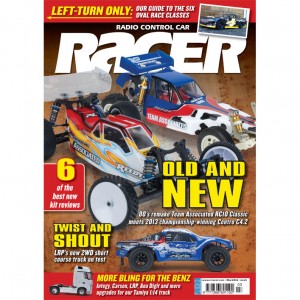 Features
Sweet Sub-Sixty – the CR3P radio offers pro performance at a budget price as Joe Brown tests Absima's middle of the range £60 set.
Making the Best Better – the stunning Tamiya 1:14 truck screams out for hop-ups with its scale looks and attention to detail so we decided to fit a range of upgrades from Tamiya, Ana Digit, Carson and Integy.
Olly Exits on the Double – At his final race for Team Associated, Olly Jefferies put in a championship worthy performance with a double victory before heading to Xray in 2014.
Xray Column – there never seems to be much of a break for the Xray team whether its racing, product development, testing or designing, something is always demanding Juraj Hudy's limited time. This month we catch up with the lead designer and company founder and find out what's been going on.
Our Left Turn Guide – if you are considering oval racing, then check out our in-depth guide to the six classes including hot rods, bangers, ministox, saloon stox, RASCAR and stock cars. Chris Wareing gets an experienced team together to bring you the details of each class and what they have to offer.
Reviews
Vaterra V100-C Nissan GT-R GT3 – the latest model to grace the V100-C chassis is this replica of the GT-R built exclusively for FIA GT3 competition by the Nismo motorsport arm of Nissan. It comes with an officially licensed GT3 body and large rear wing whilst underneath is the V100-C chassis with splitter and rear diffuser. Power to the 4WD system is a 15T brushed motor, waterproof electronics and a Spektrum DX2E steerwheel radio, and you can find out all about the chassis and complete specification in our six page review.
Team Associated RC10 Classic – as the name suggests, the original RC10 was a classic and so with the burgeoning vintage scene, Team Associated opted to re-release their original 2WD buggy. But in order to respect the original collectors item, the RC10 Classic uses new mouldings and parts to make it suitable for today's powerful brushes and LiPo systems. After much infighting in the office, Ian Peckett finally got his hands on the review sample and reflects in the joys of what could be Team Associated's first of many retro re-releases.
LRP S10 Twister SC – the new 2WD should course truck from LRP comes Ready-To-Run with a 2.4GHz radio making it an ideal model to get started with in RC or go racing fun under £180. Tom Stacey takes a closer look at this challenger from LRP.
Helion Invictus 10MT RTR – the Invictus 10MT from Helion features pretty much everything you can ask for in a RTR monster truck for a very reasonable price, with a spec that includes a 4WD transmission, brushless package as well as 2.4GHz radio and a 9.6V battery. We put the Invictus through its paces and test it to the limit.
Zen-Racing Zen-R5 conversion – developed by David Spashett using the Team Associated R5 chassis as a base, the Zen-R5 conversion is designed to be easier to drive and features a revised pivot point for the rear suspension to aid this. Coupled with an optional Xenon front-end, we get to find out how the conversion builds and drives.
Centro C4.2 – the C4.2 was the car that not only won the 2013 BRCA National Championship in the hands of Neil Cragg, but it was also the choice of the Associated Factory Team drivers at the World Championship. Featuring many upgrades and updates to the older C4.1, the latest Centro is more refined and complete conversion package as we found out.