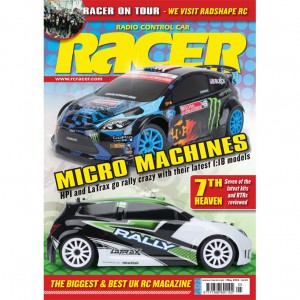 Features

Radshape RC Visit – What better way to spend some time off than get to use your RC vehicles. As we found out Radshape RC with its multi-track set-up means you can run multiple cars at the one venue.
Team Associated B5 – Ahead of the release of the B5M mid-motor chassis, we take a look at the new rear-motored 2WD from Team Associated to see some of the new ideas integrated into the successor to the World Championship-winning B4 platform.
Racing at Centre:MK – The BRCA 1:12 Championship held its penultimate round at the Centre:MK shopping centre in Milton Keynes. Not only did this mean a neutral venue, but also there would be many spectators watching from the sidelines. This was a great opportunity and one that the organisers grasped with both hands.
All Astro for '14 – This year's 1:10 off-road national series takes in six artificial surface venues from the far North West of the country at Southport down to the South East-based Eden Park Raceway. Our series reporter Keith Robertson analyses the team changes in terms of equipment and personnel, as well as the tracks that the racers will visit.
Red Bull #2 – In the second instalment of our monthly ModelSpace Red Bull RB7 build, we add some detail to the wings, mount and glue a tyre to the front wheel and start preparing one of the suspension arms.
DHI TC Domination – LRP enjoyed total success at the DHI Cup 2014 in Denmark where their team drivers did a great job in the TC classes. Jurgen Lautenbach's regular column this month reflects on the DHI Cup as well as checking out the details of the latest of their Speedbird planes.

Reviews
HPI Micro RS4 Ken Block – After their stunning 1:8 scale WR8 Flux replica of Ken Block's mega Ford Fiesta that we reviewed just over a year ago in the magazine, HPI has headed in the opposite direction for its second Hoonigan tribute and gone with a micro-sized version for 2014. The HPI Micro RS4 Ken Block 2013 GRC Ford Fiesta, to give the full model name is a fun little Global RallyCross machine as we found out when we tested it.
Arrma ADX-10 BLX – The current Arrma range uses a common platform with a choice of off-road designs to top it off. The first model that Racer got their hands on was the ADX-10 that comes in a choice of Mega and BLX power options. We tested the latter, which was top of the range model and capable of 60mph! Naturally we had lots of fun with this 2WD 1:10 buggy and tested it in all conditions.
Vaterra Slickrock – The chassis may look familiar, but the Slickrock is a new model in the Vaterra line-up. Using the knowledge gained from other brands in its parent company's portfolio, this Vaterra model offers better performance than the product it replaces. With a new chassis underneath it, the Slickrock tubular frame/roll cage is very tough and is complimented by the bolt on body panels. To find out how this performs on a rock crawling track, check out our review.
DHK Hobby Wolf BL – After testing a couple of their 1:8 Optimus models, the latest DHK Hobby product for us to test is a 1:10 electric buggy called the Wolf. And that name is well suited to the product as it comes with brushless electrics and a LiPo battery for mega performance, all included in the RTR package for under £200.
LaTrax Rally – As you may guess from the name, the LaTrax is a subsidiary of Traxxas and so has the looks of its better-known brother, and a big reputation for its wheel tracks to follow too. Based on a compact and affordable 1:18 platform, the Rally comes fully assembled and is referred to as Ready-to-Race with 4WD system and gear differentials, independent suspension, waterproof speed control and 2.4GHz radio system. Iconic RC;'s Justin Noble gets to have some sideways fun with the cute rally car…
HoBao Hyper H4e Pro – They may be well known for their 1:8 nitro-powered off-road buggies and trucks, but that hasn't stopped HoBao from releasing a high-end touring car with some lovely features that puts more expensive machinery to shame. With a unique colour scheme that makes it stand out from the crowd, Mark Jackson couldn't wait to put the H4e Pro to the test at Bedworth and see what HoBao have come up with for their first competition TC chassis.
TLR 22-4 – It has been many years since Horizon Hobby has released a competition-spec 4WD buggy so it was with great excitement that the 22-4 finally arrived in our office for review. We hit the ground running after being one of the select few to handle one of the actual cars raced at last year's World Championships so with this fresh in our minds, we got the car built up and then paid tribute to Ellis Stafford and his return to the team with a copycat paint job. Ian Peckett takes on the build and gleans all the important tips and info from Big E himself.