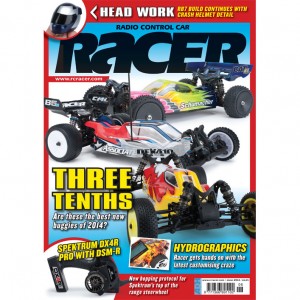 Features
Racer Takes a Dip -Â One of the current trends in RC is to personalise your equipment with a hydro dipping treatment. Racer headed along to Dip Brothers for a chat and to see the process in action.
On a Slide – In the third part of our Red Bull Racing RB7 build, we get to detail the scale crash helmet by using some waterslide decals to replicate Sebastian Vettel's distinctive scheme.
Stars at the Show - This month's LRP Column sees Jurgen review the Nuremberg Toy Fair as well as an overview of their all-new Competition Car Line batteries as well as what went on at the TITC in Thailand.
Introducing DSM-R - Spektrum's latest 2.4GHz protocol is DSM-R that sees the system hopping from free channel to free channel rather than locking into the one. This system was introduced by Spektrum with their top of the range DX4R Pro transmitter so we took the opportunity to test them both.
26 Not Out -Â The last round of the 2013-14 BRCA LMP12 and GT12 series took place at Chesterfield and whilst Olly Jefferies had wrapped up the modified title, it was David Spashett who won the stock championship and his 26th national title.
Reviews
Carisma M04S VW Golf -Â Justin Noble gets his hands on the new VW Golf bodied Carisma M40S. Based on the stunning Golf 24 model, this M40S looks the business…
Team Associated B5M Team -Â The B5M was eagerly anticipated by fans of Team Associated who see the US brand finally offer a mid-motor chassis for high traction competition. This was one build that we too were looking forward to as well.
Team Durango DEX410v4 -Â The new Team Durango DEX410v4 is very much a development of its forebears, but when a car has this type of pedigree, evolution rather than revolution seems the most sensible option as we found out.
Tamiya M-05 Suzuki Go Pro - Hot on the heels of the real Monster SS Suzuki Swift's Pikes Peak win comes this 1:10 replica on Tamiya's faithful M-05 chassis.
LRP S10 Blast 2 BX BL - The S10 Blast 2 BX replaces the brushed version that we reviewed some four years ago and now with a powerful brushless set-up, looks great value for money at just £25 more.
Vaterra V100-C Nissan Silvia S15 -Â Once again Racer gets to check out the latest on-road offering from Vaterra and its fantastic 4WD V100 series chassis. This time the V100-C gets a Nissan Silvia body with the choice of street or race styling with an optional large rear wing.
Schumacher CAT K1 Aero - Updated for the 2014 season, Schumacher has released the Aero version of the popular K1 4WD buggy. With key updates such as V2 big bore shocks, gear diffs as well as a new carbon fibre chassis, we evaluate the Northamptonshire manufacturer's title challenger.