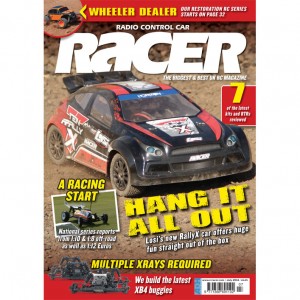 Features
Elliott "Herts" Westmill – the 2014 season looks like being a classic with the UK providing world-class racers to go head-to-head over the five two-day rounds throughout the country. Round one started at the Herts club at Westmill near Ware and it was former champ Elliott Boots who got his season off to the best possible start.
Team Associated in Kiddy Control – West Midlands racer Tom Yardy and last year's double champion Neil Cragg would share the spoils with wins in 2WD and 4WD for Team Associated respectively at Kidderminster in the first of the six BRCA National series. Read our full report as well as an interview with legend Craig Drescher who took part in 4WD.
Masters of TC at Rüsselsheim – spectacular racing action took place at the LRP Touring Car Masters with deserving champions Viljami Kutvonen and Marek Cerny, whilst LRP's R&D team were fine-tuning their Flow speed control firmware.
Restoration RC – in the first of a new series of articles under the How To banner, we look at buying a second-hand RC vehicle then improving on its performance by stripping the mechanicals and carefully rebuilding the chassis. In future issues, Justin Noble will also look at making the right choice when it comes to replacement parts without simply throwing money at it and selecting some upgrades along the way.
Hagberg's Número Uno – this year's EFRA 1:12 European Championship took place in Italy and saw a first title for Alexander Hagberg in modified and a third win in the stock class for Markus Mobers. Luke Burley reports in detail…
Jefferies's Near Miss – our own Olly Jefferies came so close to winning the European Championships in 1:12 yet wasn't on the podium. Find out all about his troubles in the finals straight from the horse's mouth on page 54.
Making the RX8 – there never seems to be much of a break for the Xray team whether it's racing, product development, testing or designing. But with the product line-up, continuing increasing and involving. Development of the new RX8 was handed over to Juraj Hudy's son, Martin. In this month's column, we find out all about the latest RX8 model from Martin himself.
Reviews
Losi Ten-T RallyX RTR – powered by a high-performance brushless system capable of 50mph, the new Losi RallyX is fortunately equipped with Spektrum's AVC technology so you can easily explore its limits whilst remaining in full control.
Team Associated TC6.2 – the designers at 'Area 51' have definitely been more pro-active then re-active wit the new TC6.2 model when you compare it against the outgoing model. We see it as philosophy change rather then just an evolution and you can read why with out seven page feature.
Tamiya DT-03 Neo Fighter Buggy – if you loved the original Frog then say hello to DT-03, the 21st century that Tamiya introduced the at Nuremberg. This may be an introductory fun/race kit but it does feature the latest off-road buggy DNA.
Carisma M40S VW Touareg – with the scale looks of a Paris-Dakar winner, the Carisma Volkswagen Touareg is an ideal package for racers on a budget, being supplied with everything that you need all in one package.
Vaterra V100-S CHP Camaro ZL-1 – from law-breaker to law enforcer, Vaterra's drop-dead gorgeous Camaro ZL-1 has been given a distinctive new image that turns this street racer into a respectable patrol vehicle. So less traffic light grand prix and more traffic control, Racer runs the rule over the California Highway Patrol Camaro ZL-1.
Xray XB4 2014 Specs and XB4 2WD – this month we look at Xray's latest 1:10 off-road buggies in the form of the updated XB4 4WD model as well as the 2WD that uses the former's adapted platform. With such similarities, it made sense to analyse them both at once in one big eight-page feature.