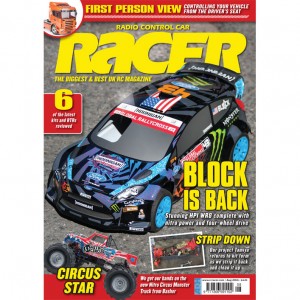 Features
A Driver's Perspective – Joe Brown kits out one of our long-term Tamiya tractor units with a First Person View package that allows him to drive it through a camera installed in the cab – cool or what!
Serpent and Capricorn Share Wins – The 2014 BRCA 1:8 On-Road National Championship kicked of at Mendip and Halifax with wins for Tim Wood and Kyle Branson. As usual, Andy North was trackside and brings us his comprehensive report.
Public Awareness Programme – LRP headed to the Intermodellbau show at Dortmund in Germany not only to show off their latest and greatest products, but also for the public to have the opportunity to drive some of the S10 model range.
Normal Service Resumes – West London Racing Centre provided the curtain raiser for this seasons BRCA touring car championship as it was last year's champ Zak Finlay winning in pro stock and Elliott Harper in modified who got off to the very best start.
Wash and Brush Up – It is time to clean up our Tamiya project vehicle as we strip it down back to kit form and treat it to some TLC ahead of a rebuild and a few upgrades in the future.
Bloomfield Bags Schumacher First – A first win for new Schumacher 1:10 driver Darren Bloomfield ensured his strong start to the 2014 season continued as Neil Cragg won again in 4WD to become the a favourite for the title in the all-wheel drive class.
Grab Some Action – Spanish contributor Javier Vizcaino guides us through the steps through the steps of fitting a camera to an RC bike in order to achieve jaw-dropping footage just like you see on TV.
Reviews
Team Associated RC10 World's Car – Tom Stacey takes you back in time to August 1993, the IFMAR 1:10 Off-Road World Championships and a very special RC10, the aptly named RC10 World's Car.
Tamiya TT-02D Drift Spec – This Tamiya allows one of our established contributors the opportunity to turn their hand to drifting as he builds and runs the latest Tamiya Drift Spec model in the form of the TT-02D chassis.
Basher Nitro Circus Monster Truck – John Weston puts the new 1:8 scale Nitro Circus Monster Truck through its paces as he recreates some RC versions of the stunts performed by Travis Pastrana and his team.
HPI Ken Block 2013 GRC Ford Fiesta HFHV WR8 3.0 – HPI's latest nitro rally kit allows you to mimic the exploits of YouTube and rallying sensation Ken Block in your back yard…
Xray XB9E 2013 Specs – Taking at look at Xray's latest release in the electric E-buggy class is Stephen Coyle. The XB9 has proven to be incredibly successful so it's no wonder that the XB9E uses its nitro brother as the platform.
Schumacher Cougar KF – The KF is the latest Schumacher Cougar 2WD competition chassis that includes the rear motored KR and the traditional mid-motored SV2. But this model has been developed for ultimate high traction and is already proving to be a big hit in the UK.