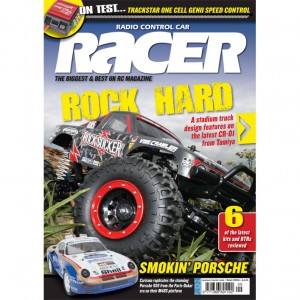 Features
The Build-Up Begins – Part three of our Restoration series of articles finally sees our Tamiya equipped with some new parts.
TORCH Shines Bright – Hosting their first ever National round in their history, the Titchfield Off-Road Club Hampshire held round three of the championship and put on a great show for the racers as it was Tom Cockerill who added his name to the list of 2WD winners in 2014.
LRP's High Performance Weekend – High Performance Days took place at Hockenheim and it was an opportunity for LRP to showcase their range in front of the public at a great venue.
One-Cell at Speed – Turnigy's new Trackstar speed control is a dedicated one-cell unit that appeals not only due to its low price, but the features too as we found out when we installed it into a GT12 car.
A True Legend – The Lancia Stratos is a stunning looking design that enjoyed notoriety in 1974 when it starred on the world rally stage winning the first of its titles.
Rally Legends has a wide range of such bodies available to fit on to 190mm wide cars and you can find out exactly what's available on page 34.
Green Goes Back-To-Back – Rounds three and four of the BRCA 1:8 On-Road National Championship saw Serpent star Mark Green take two wins as the series visited Wombwell and Adur.
The Real Thing – The second article from Javier Vizcaino takes us through the next steps of fitting a gyroscopic camera to an RC bike.
The Price is Right – Colin Price and Chris Clark stood atop the highest step of the podium at Halifax with them both taking their first even national wins in their respective classes at the BRCA TC Nats.
Olly Heads East – With the outdoor season in full swing, it was time for Olly Jefferies to head over to Slovakia for the Xray Challenge being hosted by his main sponsor that was held at the Hudy Arena.
Reviews
Carisma M48S Porsche 959 – The Porsche 959 first appeared as a Group B rally car as a way of testing its all-wheel drive transmission before then being released on the road. Carisma has perfectly captured the stance of the model in Dakar spec and as we found it goes as well as it looks…
ECX Circuit 4WD RTR – The latest ECX RTR line-up was showcased at the Nuremberg Toy Fair at the start of the year with updates to all their current models. The ECX Circuit stadium truck is now available in a 4WD version and Racer was eager to have a play.
Kyosho Ultima RB6 ReadySet – Kyosho head down the ReadySet route for their World Championship-winning RB6 2WD buggy complete with Team Orion electrics. As a suitable great entry-level model or someone wanting to try their hand at the class, we decided to treat it as such and see how the rear motored chassis handled on track.
VBC Racing WildFire D06 – Stephen Coyle returns with his review of the latest touring car platform from VBC Racing now represented in the UK by SMD. With some neat touches to make it stand out from the crowd, the WildFire D06 is one lovely looking chassis.
Axial SCX10 Jeep Rubicon – The 4WD SCX10 scaler platform is considered by many to be one of the best and now Axial has linked up with Jeep to replicate the 2012 Wrangler Rubicon. Racer hits the trail to check out what this segment of RC has to offer and why going slow has never been quite so much fun.
Tamiya CR-01 Rock Socker – The latest evolution of the Tamiya CR-01 sees it dressed with attractively styled stadium truck inspired body shell on top of its large, oversized wheels and huge articulated suspension set-up. Racer gets up close and personal with the new Rock Socker to see whether it has the personality to back up its bold good looks.