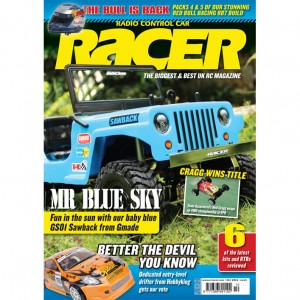 Features
A Four-Pack of Red Bull – Joe Brown continues the build up of our Red Bull Racing RB7 as we work through packs four and five and get the upper and lower wishbones mounted to the bulkhead.
Cragg Slips and Slides to Title – All it took was four rounds for Neil Cragg to take the BRCA 4WD National Championship for Team Associated when he won at Eden Park as Darren Bloomfield took up the favourite tag with history for Schumacher in 2WD.
Testing the T6200 Touch – SkyRC is a relative newcomer on the scene so when Schumacher offered us the opportunity to look at their charger range, naturally we were very interested.
Long-Term Test – Tamiya FPV Project Truck Our Tamiya 1:14 trucks continue to evolve and we are now exploring a range of upgrades from the likes of Phil Berg, Integy and Verkerk-Modelbouw. We also had the opportunity to drive our Scania model at the Hendon Scale Model Exhibition.
Moore Spice in Title Race – HB's star driver Andy Moore made the most of his limited racing in the UK as he took the overall win at Stafford in the BRCA championship to ensure the 2014 title race remains wide open.
Völker Goes Fourth – This month's LRP Column sees the company reflect on their success at the ETS as team driver Ronald Völker secured his fourth consecutive title.
GPS Trajectory – This is the second article in a series of three dealing with incorporating electronic science and parts borrowed from multicopters that have gained popularity in recent years to an RC bike. This second article is about adding a GPS, magnetometer and trace the bike trajectory on a RC circuit.
One New Speedy MT-4 – The MT-4 was a popular radio system, highlighted by many top drivers like our own Jack Embling using it successfully. But now there is a new model called the MT-4S that not only is faster than its predecessor, but also features a telemetry option.
Reviews
Losi Mini 8ight-T RTR – When Losi released a scaled down version of their championship winning 1:8 off-road buggy it became an instant success. With the aptly named Mini 8ight-T arriving in the Racer office, we take a look to see if the truggy version can continue this success.
Helion Criterion – The Criterion is the latest Helion model for us to test at Racer. This entry-level 2WD buggy stands out from the crowd with such features such as an 8.4V battery so we were interested to see how it compares to its competition.
Hobbyking Devil Drift – Lewis Chapman, an experienced drifter takes a look at Hobbyking's Devil Drift, which is a dedicated platform for sideways action that comes in ARTR form with a brushless package for long runtimes.
Gmade GS01 Sawback – Gmade is a relatively new name to the UK, but worldwide their models are well known in the rock crawling community. The Sawback is one of the coolest scale rigs currently out and when we heard our friends at CML Distribution had become the UK distributer for Gmade, we couldn't wait to get our hands on the Sawback.
LRP S10 Blast 2 SC 2.4GHz – The S10 Blast 2 platform is a flexible one that LRP is using in a number of forms with the latest being a brushed short course truck. With 4WD and a high-torque motor, this RTR has plenty of power for to be had on or off the race track.
Arrma Fury BLX – Arrma has quietly sat under the RC radar recently with their electric RC off-road line-up. Now they have updated their product range with brushless technology and with a new UK distributor in the form of you should be hearing a lot more about these great off-road RTR trucks and buggies. Racer takes a closer look why with the short course truck.