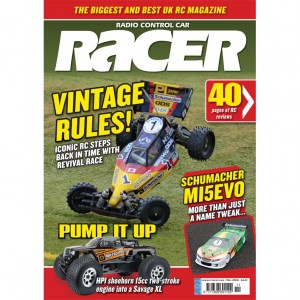 Features
OJ's Home Win – Local hero Olly Jefferies would take the win at Cotswold and put him into contention for the 2014 BRCA 1:10 TC National Championship.
Stotfold Superstars – It was weekend for the champions at Stotfold as Darren Bloomfield won on Saturday to take the BRCA 2WD 1:10 Off-Road title whilst the newly crowned 4WD series winner Neil Cragg continued his impressive winning streak.
Boots Doubles up With Wakefield Win – With the second round of the 2014 BRCA 1:8 Off-Road National Championship postponed due to bad weather, Wakefield would see the racers get together again. After winning round one, it was clear the long break had not affected Kyosho's Elliott Boots.
Cerny Wins ETS Pro Stock for LRP – LRP reflect on the ETS season finale as their team drivers took wins in both modified and pro stock.
Booth Steps Back in Time – The Revival Meeting took place at A1 Racing and with Iconic IRC on board, it attracted top racers and vintage fans aplenty with Jamie Booth rolling back the years taking a win with a Tamiya Top Force Evolution. It may have been the first Revival, but it was such a success and obvious that this would be the start of something great.
Reviews
Vaterra V100-S 1967 Ford Mustang – Another one of Vaterra's stunning scale replicas of an iconic motor vehicle and this time it's the 1967 Ford Mustang made famous in many films, but most notable Bullitt that starred Steve McQueen.
HPI Savage XL Octane – Two-stroke power is nothing new for HPI as their Baja range has been based around one, but now the Savage XL heads down the same route with a brand new, smaller capacity 15cc two-stroke lump wrapped up in the Octane model. There has been an incredible amount of hype around this powerplant so what is it like to live with? Racer gets their hands on the brand new package and puts the Octane through its paces.
RC4WD Trail Finder 2 RTR – This is the latest Trail Finder 2 and comes as a Ready-To-Run version of the kit that we reviewed in early 2013. It may have lost some of the luxuries such as the two-speed gearbox, but the overall specification is great for a first-time to get into the scaling sector of the hobby with a proven design from a highly respected company.
Carisma M40DT – The M40DT RTR is a 1:10 4WD electric desert truck is an entry-grade offering from Carisma, capturing the current full-size desert truck fever. This is a thrash test and we certainly did thrash it across a number of environments. The M40DT held up well and left us in no doubt that this pleasurable off-roader is a satisfying piece of RC kit.
FTX Banzai – FTX with their Banzai offers an introductory RTR drift car for the masses as Lewis Chapman, one of our drift nuts gets up close and personal. With a sub-£120 RRP the Banzai offers excellent value for money and a solid basis for sideways fun.
Schumacher Mi5evo – Stephen Coyle uses his past experience with the Mi5 to analyse the refinements and updates incorporated into the new Mi5evo model. Schumacher has tried to increase the driveability on super high-traction tracks where the grip generated could be too much, but has it worked…