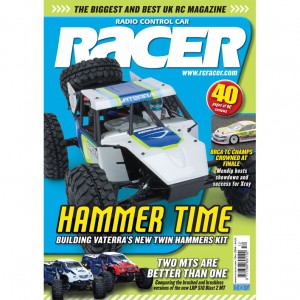 Features
Xray Does the Double – The BRCA 1:10 Touring Car title went down to the wire at Mendip and it was Olly Jefferies and Zak Finlay who emerged with the championships, both driving for Team Xray.
The Big Cs Win at RHR – Team Associated's Neil Cragg and Schumacher's Tom Cockerill shared the wins at the final round of the 1:10 off-road nationals hosted by Robin Hood Raceway in a fitting send off to the 2014 season.
nVision on a Multiple Charge – The latest company to offer a four-output charger is nVision who kindly sent a sample of this flexible unit across for us to test.
First and First for Darren and Nemo – As the Kent club stepped in to take the place of NRC for the third round of the BRCA 1:8 Off-Road National Championship, Darren Bloomfield raced to his first win of the season for Agama and in doing so gave Nemo Racing their historical first-ever victory on UK soil.
Spanish Success РRonald V̦lker and Marek Cerny took the modified and stock wins in Spain at the 1:10 touring car Euros, and in doing so ensured LRP walked away with the bragging rights.
Battery Graphs – In Javier Vizcaino's final article, he looks at adding current and voltage battery sensors, and graph in real time battery instantaneous voltage, current and power, while an RC bike is completing a lap of the circuit.
Reviews
Vaterra Twin Hammers Rock Racer kit – Following on from the proven RTR version, Vaterra's new Twin Hammers comes as a kit and is packed with many of the option parts that were available for the RTR model. We installed a Dynamite system and analysed the build in this issue ahead of the running panel in a future issue.
Team Associated Qualifier Series ProRally – The Qualifier Series is Team Associated's range of entry-level models that come with some stunning designs in ready-to-run format. And they are packed with performance too as we found out when putting the new ProRally to the test.
Basher Nitro Circus 4×4 Short Course Truck ARR – The second Nitro Circus-branded model we have had to test is the short course model that is supplied as a rolling chassis, requiring radio, a battery and charger to get up and running. Justin Noble finds out what kind of kit and performance you can expect for under £130…
Tamiya XB Pro Zakspeed Ford Capri – Stef Godfree rolls back the years and memories as he fondly reminisces about the domination of the Zakspeed Capri that was such a successful racer in Germany. Tamiya has respected this with a Würth sponsored version as well as the Jägermeister example we review in this issue based on their a proven TT chassis.
LRP S10 Blast 2 MTs – LRP S10 Blast range has had a recent revamp with upgrades to the chassis components and electronics in the form of the Blast 2. In this issue we put the brushed and brushless forms of the monster truck head to head and compare the two monster trucks.