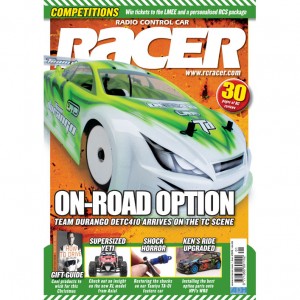 Features
A Bigger and Badder Yeti – We got our hands on a early sample of the new Yeti XL ahead of a full review in a future issue to see what the guys at Axial Racing have come up with…
RCS Digital Printing Competition – Win a custom package tailored to your requirements courtesy of RCS Digital Printing that will include decals and an item of clothing. Check out their website if you need any help answering the question!
Not Your Average Sumo – Parrot's latest RC toy, the Minidrone Jumping Sumo mixes driving and jumping, but there are no kicker ramps here as it can jump from a standstill using its built in tail thing – find out about that and everything else in the test session feature.
Micro Machine – The latest Dremel rotary tool is the Micro and that incorporates all our favourite features like LEDs, SpeedClic compatibility and push button controls, wrapped up in a neat package that includes a Li-Ion battery with charger and dock, case and 35 assorted accessories.
Time for a Cuppa – Take the weight off your feet and step away from the workbench and spend five minutes completing our RC inspired festive crossword.
Blue Just Got Faster – With a claimed speed of 45kph, we just had to put the latest LRP Deep Blue boat to the test. Now with a water cooled 2900kV brushless motor and fitted with a LRP 11.1V LiPo, the new 420 Race sounded quick as we checked the radio ahead of a session at the lake and it didn't disappoint!
London Model Engineering Exhibition – We have three pairs of tickets up for grabs to attend the annual London Model Engineering Exhibition held at Alexandra Palace. Just send in a postcard with the correct answer to win!
Christmas Cool Picks – Racer cherry picks some great RC and non-RC gifts for 25 December so make sure all your friends and family read this issue for some awesome ideas come Christmas day!
Fun at the Finals This month's LRP Column sees Jurgen Lautenbach reflect on their Offroad-Challenge and HPI-Challenge as well as advances with the Flow speed control's Stock Software.
Strip Down and Rebuild – In the fourth instalment of our Restoration RC article, we check over the shock absorbers, stripping them down, cleaning and rebuilding. And they sure needed it as Justin Noble found out…
Never Give Up – It was only on the final corner of the last lap that Darren Bloomfield swept into the lead and with it the win at the Coventry round of the BRCA 1:18 Off-rod National Championship. And this would be his second consecutive win and pit him into the position of title favourite too with just one round to go.
Red Bull Suspension – As we return to our build up of Kyosho's Red Bull Racing RB7 by De Agostini, the focus is on the left front suspension including the rocker, push rod, knuckle arm and more.
Making the WR8 Even Greater – It's hard to believe Ken Block could be any cooler or faster come to that but we just had to fit some upgrades to our HPI WR8 Ken Block chassis to do that – and we think we have succeeded with the ultimate Hoonigan machine
Reviews
Team Durango DETC410 – The Team Durango DETC410 nearly won the BRCA National Championship when it appeared in prototype form in 2013, but does it set the gold standard in touring car technology? Luke Burley builds it up and finds out…
Losi LST2 XXL – It may still be called an LST, but this new model boasts a .31ci two-stroke engine. As small capacity two-stroke engines begin to get more and more popular, it is the electronic ignition that makes the LST2 XXL one of the most interesting RC vehicles currently on the market.
LRP S8 NXR – The latest S8 model from LRP is the NXR that replaces the outgoing BXR Evo model. A new name means that this is more than an update, but an all-new platform.
Gmade R1 Rock Buggy – Following our successful review of the Sawback, we couldn't wait to get our hands on Gmade's impressive looking R1 rock buggy. The R1 has the potential to not only rock crawl, but also race at speed across inhospitable terrain. We got our hands on the ARTR version for a full thrash test.
Tamiya XB Pro WR-02G Tumbling Bull – The Tumbling Bull is not a bulldozer as the name hints, but the latest tractor to be based on Tamiya's WR-02 platform. John Weston dons his welly boots and heads off to a local ploughed field for some fun in the mud!