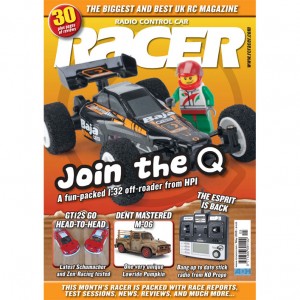 Features
Vintage Tamiya: The Early Versions
Like many RC companies out there, Tamiya has constantly evolved their kits with small but important tweaks to the design as they improve and strengthen the product in is early years as John Weston divulges in his Iconic column.
OJ's Crewe Cut – Another couple of wins wrapped up the 10.5T stock and open modified championships at the BRCA 1:12 Nationals for Xray factory pilot Olly Jefferies.
GT12s Go Head-To-Head – Peter Winton assesses the latest platforms from Schumacher and Zen-Racing in the GT12 class, and what each has to offer the racer.
Double Deutsch – In the second of our two-part review of the Nuremberg Toy Fair, Racer takes a look at some of the other new releases that caught our eye in Germany.
What's on the Horizon? – The Editorial team headed up to the Leamington Hobby Centre to not only see the latest new items that were displayed at the Nuremberg Toy Fair, but to drive them too.
Cup Winners – The latest instalment from LRP's Jurgen Lautenbach sees him report from the DHI Cup in Denmark, announce details of their updates VTEC CPX-V2 Complete Wheel Set and introduce the staff behind LRP-America.
Stick Selection – After a period when they chose not to offer a stick radio, KO Propo has released the Esprit-IV Professional that will satisfy the demand of the UK market especially with the latest technology and dedicated 2.4GHz transmission.
Title Talk – Ahead of the BRCA 1:10 Off-Road Nationals, our trackside correspondent, along with the editorial team assesses the runners and riders, and brings us up to date with team changes and new car news.
Reviews
Carisma GT14B Sport RTR – Carisma has added a new 1:16 micro buggy to their impressive RTR line-up and this one includes some race winning pedigree! Racer lends it to our youngest contributor to see how it goes…
Tamiya Lowride Pumpkin – The M-06 chassis is a favourite for club racers with its interesting design that features the motor mounted ahead of the driven front wheels. But the Lowride Pumpkin is designed for its looks and the Tamiya chassis simply provides a platform for the truck body. Yet our version takes the body to another level aided by the skills of Mr Kevin Dent and his one-off masterpiece.
HPI Baja Q32 – What does £35 buy you in the world of RC? You may think very little, and that is right in this context as you get a micro-sized 2WD buggy with performance that will appeal even to a world champion. Great looks and huge capability are wrapped up in a RTR package that is super easy to use. Yes, we loved it so read on to find out why…
Xray T4'15 – The devil is in the detail is a phrase used that describes the on-going development of many of Xray's race cars. And the latest touring car model is no different as the T4 platform gets the latest 2015 updates, pioneered by their factory team drivers Alex Hagberg and Olly Jefferies, led by chief designer Martin Hudy. Don't worry though as we analyse the important bits and what this means for potential owners.
Vaterra 1986 Chevy Ascender – Vaterra's Ascender 4WD scaler kit has been in such high demand that it sold straight through upon it's initial release here in the UK, and we had to wait for the next batch to arrive before it was back in stock and we could get our hands on one for review. But it's often said that good things come to those who wait and so when it did arrive at the Racer offices, we got to work quickly.