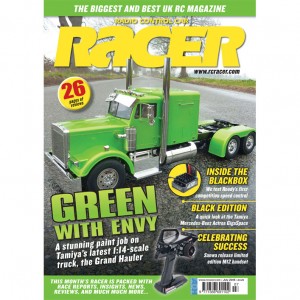 Features
The Good Old Days – It's not long now until the 2015 Iconic RC Revival meeting takes place and so it's perfect timing to remind you of this hugely successful event, as well as reminisce about the days before the Internet and how your local model shops was the epicentre of our hobby.
Easy Paint Removal – The ability to repaint a hard body is one of the benefits of this type, but removing the paint has always been quite challenging until now as we put the Carson Hard Body Paint Remover to the test.
Spash Gets One Over OJ – Chesterfield is the traditional end of year national, and with Olly Jefferies using this meeting to practice for the European Championships there were many drivers who wanted to stop his unbeaten run…
Let Battle Commence – Yokomo factory driver Lee Martin took the top spots as the BRCA 1:10 Off-Road Nationals kicked off at RHR. It was two hard fought wins though after Team Associated's Neil Cragg had lined up on pole position both days.
The Wait is Over – The long-anticipated Blackbox 410R Competition speed control is the result of extensive track testing by Reedy's engineers and racing team that focussed on throttle and brake feel, precision adjustability and robust hardware. But just what we did we make of it…
LCG LiPos and More – Jurgen Lautenbach's latest column sees him explain the benefits of LRP's new LiPo Competition Car Line batteries as well as look back at the Modellbau Wels event that was held in Austria.
Up for the Challenge – Preparations are going well for Olly Jefferies as he gets ready to defend his BRCA TC National Championship title. This year sees him using a full LRP package in his Xray cars as the Olly informs us through his latest diary piece.
Scaling New Heights with the Ascender – As a follow-up to our original review of the Vaterra 1986 Chevy Ascender, we hit the trails with our scaler in order to see how it performs and to understand a little bit more about this rapidly growing segment of the RC market.
Sounding Out Tamiya's Latest MFC – Anthony Pritchard joins the Racer review team, who as a long time truck builder, we thought he was the best person to give you his views on the latest version of Tamiya's Multi Function Control unit.
Years of Success – To help mark their 40th anniversary, Sanwa recently gave their flagship M12 steerwheel transmitter a limited edition makeover. Racer joins in with the birthday celebrations and takes the wrapping off the made-over combo to reflect on what's changed and what's stayed from the original M12.
Club Focus – 1066 Racing – One of the newest clubs to grace our pages in recent times is 1066 Racing. They have just celebrated their first birthday so are continuing to develop and grow as Andrew Coley explains.
The Rear of the Red Bull – Our construction of the Red Bull Racing RB7 continues and our attention turns to the rear of the chassis as we build the differential and add some of the suspension.
Black Beauty – Racer takes a quick look at the latest 1:14-scale truck from Tamiya in the form of this pre-painted Mercedes-Benz Actros that will not only save a lot of time with the body work but offers a great finish too.
Reviews
Xray XB4 2015 Specs – Xray traditionally has produced evolutions of their race platforms for the new racing season and with the XB4 4WD buggy is no different. The new 2015 model comes with a whole range of choices for the racer so can be sure of a set-up that will suit the surface and demands of 1:10 off-road competition.
Tamiya Grand Hauler – Kevin Dent gets his hands on the latest Tamiya 1:14 truck, the Grand Hauler that got its first public airing back in February at the Nuremberg Toy Fair. In this article, Kevin offers an overview of the build ahead of some planned changes for this long-term test model.
RC4WD Gelande II with Cruiser Body Set – Joe Brown begins the build of the latest Gelande II kit from RC4WD that comes with a Cruiser body set. We plan a lot more than just a build review with this one as in later instalments we will have focused features on painting and fitting upgrades, but we begin with the chassis.
Carisma GT10DT – The GT10DT is a desert truck and harks back to the kind of models that first appeared back in the 60s and 70s. Nowadays we refer to these kind of vehicles as rock racers, but we found it very versatile when Stef Godfree puts it through its paces.