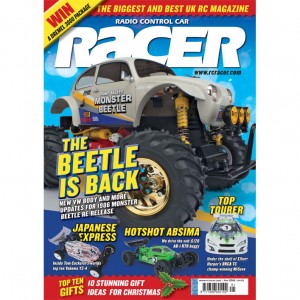 Features
Free To Enter Competition – Win a Dremel 3000 Multitool Christmas Kit worth £79.99.
The Good Old Days – Well maybe not. Handout transponders, 27MHz radios, brushed motors and NiMH batteries. Believe us you have never had it so good! 18 Christmas Crossword Pit your knowledge against our challenge in our festive Christmas crossword.
Club Focus – John Weston visits an up and coming RC club based around Sleaford in Lincolnshire, Sleaford Radio Control Car Club.
Ben at his Best – We let Ben Jemison of Nextlevelrc loose with our Schumacher Cougar KF2 as he fits the latest mid conversion and then treats some parts to some custom machining.
Best Brit and Top Yokomo – We get an awesome sneak peek at Tom Cockerill's Yokomo YZ-4 that qualified fifth at the world championships ahead of its public release, as the man himself guides us through the key attributes of the new belt and gear driven 4WD buggy.
Christmas Gift Guide – A phone, camera, luggage and much more in our top ten picks for the RC connoisseur who is looking for something special on 25 December.
Winter Wins – Whilst summer seems a long time ago, Jurgen Lautenbach reflects on two major races that saw success for LRP at the EFRA ISTC Euros in Portugal and the 1:10 4WD off-road World's in Japan.
450 Fun – LRP has made a name for itself with a fantastic line-up of fast boats with great handling and features. The latest is the 2.4GHz controlled Deep Blue 450 that once again, ticked all the boxes we could ask for.
Finlay Takes Stock for Xray – Halifax hosted the penultimate round of the BRCA 1:10 TC National Championship and this would see wins for Zak Finlay and Elliott Harper. The win for Zak would give him the stock title whilst Elliott's modified win would see the title in this class go down to the final round at West London.
RealFX – It's like slot without the slot, and loads better. We take a look at the new RealFX system that still uses a track for the cars, but offers lots more functionality.
Top Tourer – Inside the national championship-winning Mi5evo of Schumacher factory driver Elliott Harper.
Lee Finished in Style – The final round of the 2015 BRCA 1:10 Off-Road National Championship took place at Stotfold and whilst Lee Martin had already wrapped up the 4WD title, he would go on to do the double taking the 2WD round win and with it the series too.
MRT mPTX Range – We take a look at the brand new mPTX personal transponders from MRT that come in a couple of versions to suit the requirements of a racer.
Reviews
Absima AB1 – Absima has a new entry-level series of 1:10 off-road trucks and buggies boasting a tough, robust chassis and brushed electrics. Perfect for the beginner as Shaun Taylor and son Hayden found out…
Carisma GT24B – Carisma off-road buggies are getting smaller. Can one of the smallest RC buggies available really perform likes it bigger brothers? Racer gets their hands on the Phil Sleigh replica scheme model and then sees how it performs on and off the track.
Serpent SRX-4 – Serpent UK Off-Road has been a great supporter of the magazine and they kindly shipped us one of the stunning SRX-4 buggies. Designed by Billy Easton, this car has been honed on the race track by the likes of Jörn Neumann and Hupo Honigl. We built our review car up first with saddles then fitted a couple of optional parts to allow us to fit the short LiPo option as we analyse both arrangements and what's best for the track conditions.
Tamiya Monster Beetle 2015 – Tamiya's affable Baja-inspired Monster Beetle makes its long awaited return, nearly 30 years after its original release. A real monster smash the first time round, Tamiya aficionados have hotly anticipated news of its re-release across the globe. Never one to shy away from a trip down memory lane, Racer hops aboard the re-release train to check out this old favourite once more.