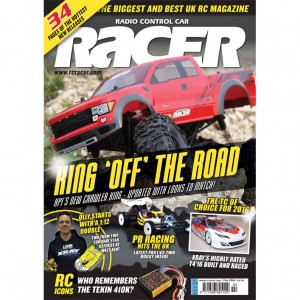 Features
V3 – The Lowdown – PR Racing's new PRS1 V3 features the latest design themes for a 2WD buggy with its laydown three-gear transmission. Racer takes a first look at the car that will be represented in the UK by Inside Line Racing, and driven by Kev Lee in all the major events.
What Makes a Monster? – In his latest Iconic RC column, John Weston analyses those famous Tamiya and Kyosho monster trucks of the 80s, some of which have been re-released this century with updated versions.
Were You Stumped? – We have the answers to last month's crossword so you can fill in any of those missing blanks.
Tekin TSC-410K – The famous keypad speed control arrived on the RC scene in the early 90s that not only looked great, but was also packed with interesting and unique features that makes it a true icon of RC.
Getting Our RB7 Rolling – Packs 19 and 20 sees our Red Bull Racing RB7 gain a clutch, air filter and four wheels as finally the F1 car can support its own weight on those replica Pirelli tyres.
A Boat, Battery Range and More – Jurgen Lautenbach uses his monthly column to announce a number of new items from LRP including their entry-level Hydro boat and the low-cost Antix LiPo battery range that targets the recreational user without compromising performance.
Open Opportunities – The 1:8 and 1:10 nitro on-road racers had a chance to race together at the British Open event hosted by the Cotswold club. And it didn't just attract current racers as David Spashett made a welcome return to race in the 1:8 class and do battle against the establishment.
Two On The Trot – A second win in consecutive rounds would see Schumacher's Elliott Harper take the top spot in the 2015 BRCA 1:10 TC National Championship and his first national title. The finale as usual was hosted by West London and four racers in attendance would be in contention for the hotly contested modified class.
Arise OJ, King of Kent – Xray factory driver Olly Jefferies went into the 2015-16 1:12 national series as the defending champion in both 10.5T stock and open modified, and he started in style with a lock-out of the P1 and taking two A final wins as West Kent's popular venue kicked off the championship.
Sound Off – Joe Brown puts Team Associated's ESS-One sound generator to the test produced by Sense Innovations, as we added a range of scale noises to our Vaterra Ascender.
Normal Service Resumed – After enjoying a strong start to his winter racing campaigns, Olly Jefferies is only too well aware that the competition will only get stronger as he looks forward to taking part in the domestic 1:12 nationals and Essex Winter Series, as well as the international Euro Touringcar Series.
Reviews
BSR Racing M.Rage – It may be a little touring car but BSR Racing's cute M.Rage is a great performer on the track. The sub-£65 chassis comes complete with a body and is based on a 210mm short wheelbase with 4WD that means it is easy to drive and ideal for those getting into the competition scene. Find out our thoughts on the Suzuki Swift-esque bodied from a club racer's point of view.
Xray T4'16 – How do you make what is considered one of the best touring cars on the market even better? Well as usual Xray has analysed the T4 platform and introduced a number of small detailed tweaks and incorporated them into the 2016 design as Stephen Coyle casts his experienced eye across the latest chassis.
Tamiya CC-01 VW Amarok – Tamiya continue their long line of scale RC vehicles with the Volkswagen Amarok, this time on the CC-01 chassis. The CC element in the name stands for Cross Country so this is a true off-road platform with looks to match from the licensed VW pick-up body. Joe Brown offers his guidance on building and driving the latest CC-01 model.
HPI Crawler King – Crawling offers a great challenge to navigate a rocky section or get over a series of tree roots in the woods, and we think the new for 2016 Crawler King for HPI has what is necessary The updated model not only looks great with its Ford SVT Raptor body with has the added benefit of 2.4GHz radio and waterproof components.
LRP S10 Blast TC 2 RTR – The Blast TC 2 has the look of a touring car racer but how does it perform. With its race-inspired colour scheme, 4WD transmission and brushless power, we were pleased to put the Ronald Völker replica on the track and see how it performed against much more expensive machinery in a car that will appeal to the first-time TC racer.