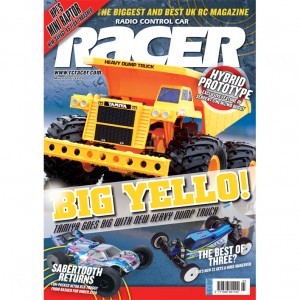 Features
A Wing and a Prayer – A challenging trip to the Czech Republic and the ETS highlighted just how small set-up changes can have a dramatic effect on handling as Olly Jefferies found out the hard way…
The Man Behind the Dirt – This month's Iconic RC column sees John Weston catch up with James Helliwell, the driving force behind Robin Hood Raceway. As a racer for some 27 years, he has seen lots of changes to cars and equipment, and is still as driven as ever as John found out in his interview.
Red Bull Racing RB7 – As we enter the latter stages of our Red Bull Racing RB7 build, we install the throttle/brake servo, the fuel tank and the starter assembly before the front of the body and nose are fitted.
LRP Show Off Prototype Pulsar Pro – This month's column sees LRP's own Jurgen Lautenbach announce several new products. Firstly, their charger line has a new offspring in the form of the Pulsar Pro and our quadrocopter range expands with the Gravit Hexa, Gravit Vision FPV and the high-tech Gravit GPS Vision (Pro) models.
The Two Ollies! – In many ways the Crewe national was exactly the race meeting everyone expected with Olly Jefferies taking a pair of wins. What many didn't anticipate was the emergence of a second Ollie as young Mr Payne dominated sports modified class on Sunday after almost winning 13.5T the day before.
Serpent Spyder SRX-2 MH – As this issue went to press, Serpent were finalising the details of their new 2WD buggy, the Spyder SRX-2 MH. As the name suggests, this follows the latest 'hybrid' trends with a laydown gearbox and the weight balance shifted further forward. And we got our hands on a prototype model for an exclusive look and see what was coming…
Wood Secures Fourth British Title – The BRCA 1:8 On-Road National Championship went down to the wire at Mendip as Serpent team mates Mark Green and Tim Wood went head-to-head for the win ad the 2015 title.
Reviews
Basher SaberTooth Nitro – At under £120, the Basher SaberTooth Nitro may just save you a lot of time from saving up for a powerful, big engine 1:8 nitro-powered truggy. Packed with a 4WD transmission, powerful .28ci engine and much more, it's hard to believe that a truggy of this spec can be bought for such an unbelievable price! Our reviewer charged up his glow start in anticipation of putting the RTR to the test so don't miss his review on page 22.
TLR 22 3.0 – This is the third release in the 22 line-up sees TLR incorporate the greatest number of changes to the championship-winning platform. With a new wider chassis, updated suspension, three-gear transmission and many more subtle changes, many feel that this will be the most competitive 2WD buggy released by TLR. And if the build and component quality fit anything to go by, then we think those forecasts are going to be very accurate.
HPI Savage XS Flux – HPI has treated their Savage XS Flux to an overhaul and is topped off with a Ford SVT Raptor body to make sure it stands out for 2016. Using major design cues from its nitro-powered big brother, this smaller version not only looks the part but also has the performance to match as we found out when putting the 1:12-scale truck through its paces.
Tamiya GF-01 Heavy Dump Truck – Its big, yellow and made by Tamiya – what else could you ask for? This Heavy Dump Truck is scaled down to 1:20 by Tamiya as the full-size version is so big and therefore you get something more akin to 1:10-scale in reality. The end result is a nice lightweight truck based on the GF-01 chassis and even with a tame brushed set-up, the wheelie bar really does come in useful…
Xray X12'16 – The 2016 version of the X12 is Xray's sixth iteration of their 1:12-scale platform. On the track the car is already the most successful model to date with the likes of Alex Hagberg from Sweden and the UK's own Olly Jefferies dominating the domestic and European race scene with their factory cars. But what we wanted to know was how it raced with a normal driver behind the wheel? Enter our own 1:12-scale Stig who built the X12'16 and put it to the test at club and national level competition.