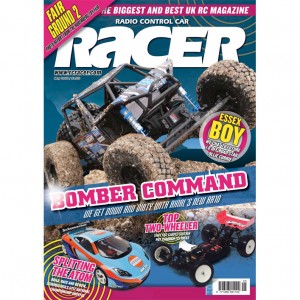 Features
Iconic Racers – We reflect on Iain Groom's and Nick Stokes's cars from the previous two Iconic RC Revival events. John Weston finds out about the cars they chose and how they performed.
Toy Fair Two – We wrap out our two-part Nuremberg Toy Fair feature with six more pages of cool stuff on show in Germany.
The 100 Club – In this month's column, Jurgen Lautenbach talks about in detail the new releases at the Nuremberg Toy Fair and especially the 100kph capable S10 Twister 2 Extreme 100 truck.
One To Watch – Ahead of the 2016 BRCA 1:8 Off-Road Nationals, we talk to last year's junior champion Ollie Currie, to find out his goals for the new season as he aims to become a regular A finalist in the British Championships.
TC Preview – Who will prevail in the touring car nationals 2016? We analyse the leading challengers that include defending champion Elliott Harper in modified and former winners Olly Jefferies and Chris Grainger. With Zak Finlay's pro stock defence unsure, James Hart, Chris Gunter, Jimmy Maddison and Lee Price will all have eyes on the top step of the podium.
Performance Enhancing – How do you make the best better when the existing model is already being used to win world titles? This is the conundrum that the Sanwa engineers endured but somehow they have made improvements with the latest M12S steerwheel transmitter.
ROC Hits the Carpet – The inaugural Reedy 1:12 Race of Champions took place at Milton Keynes in the UK and drew in some top drivers from Europe, Japan and the USA. The win went to the German driver Markus Mobers but he was pushed all the way by the well-established stars in the class.

Reviews
Axial RR10 Bomber – This new platform from Axial sees the US manufacturer team up with Randy Slawson from Bomber Fabrication to create a 2.2-class replica of his Bomber Fab KOH rock racing rig.
ECX Amp MT – The ECX product range keeps on expanding with a vast array of Ready-To-Run off-road vehicles on offer. The new Amp MT is the latest 2WD truck that is ideally suited for the beginner as we found out during a thorough test.
Xray XB2 – The XB2 is Xray's first-ever 2WD model and to cover all bases, it is available in both Carpet and Dirt Editions. For the UK it was only natural that we would choose the Carpet spec and fortunately for us, it was the first of the two models that Xray released. We couldn't wait to build and race the XB2 and it didn't disappoint!
Schumacher Atom – The successor to the popular SupaStox GT car from Schumacher is the Atom. With a design aimed clearly at outright speed and performance, its clear that Schumacher has produced a very quick car for the national-level racer. With an aluminium chassis, a new lightweight diff and wheels, how does the GT12 car hold up in the hands of a true club racer…