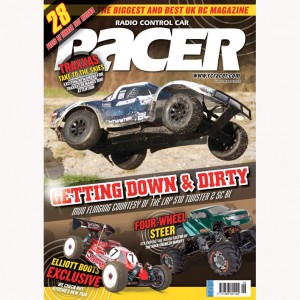 Features
Dan's the Man – There is a huge choice of vintage 1:10 off-road cars out there, but the Yokomo models are becoming some of the most sought after. And one that has an impressive history is the YZ-10 93 WCS that belongs to Daniel Wooster who is lovingly restoring his ex-team car.
Battery Banter – LRP now offers a vast range or competition LiPo batteries as Jurgen Lautenbach explains after releasing additional new style packs at the Nuremberg Toy Fair. As well as batteries, Jurgen also looks back upon the TITC that was held in Bangkok, Thailand.
EB Exclusive – Elliott Boots is Kyosho's number one driver in the UK in the 1:8 off-road class so what would be better than getting our hands on his new Kyosho Inferno MP9 TKI4, and see what the company has developed for this year's world championship.
Will Lee Be Beaten? – As double champion in 2015, Yokomo's Lee Martin will be the man to beat this year at the 1:10 off-road nationals. We take a look at the leading teams. Driver and cars for 2016 ahead of the first round.
Traxxas Takes to the Air – The Aton is the second Traxxas drone to be released but the Aton is a lot different to the lower spec Alias first scene. If you are thinking of giving drone flying a go, then the Aton is well worth a look with its three flying modes and proven Traxxas quality.
Spashett Makes it Four in a Row – Newbury was the fourth BRCA 1:12 National Championship round of the season and saw David Spashett extend his winning streak to four meetings in a row.
Euro Bride – Olly Jefferies heads to Slovakia for the annual Euros in 1:12-scale and finds himself challenging for the title once again with team mate Alex Hagberg. After this he heads to Austria for the ETS to race touring cars on carpet with the best in Europe.

Reviews
LRP Twister 2 SC BL – Short course trucks have become a regular sight at model car tracks around the UK. In this competitive market LRP have taken their original short course truck and injected a good dose of brushless power to give the S10 Twister 2 SC BL increased performance, run time and grin factor.
BSR Racing BZ-444 Pro – Just under £110 buys you this BSR Racing BZ-444 Pro buggy. Pretty impressive really when you consider the specification with a 4WD transmission, oil-filled shocks and some lovely anodised alloy components.
Xray XB4 2016 Specs – This is the buggy that gave Xray its first world title in the 1:10 off-road class when Portuguese driver Bruno Coelho took TQ and the win in Japan. And now it is available for the public to own and try and replicate the skills shown by Xray's factory pilot.
FTX Ibex RTR – FTX enters the micro sector of the rock crawler market with their Ibex model, which features a specification like nothing we have never seen before, all wrapped up in a Ready-To-Run format.