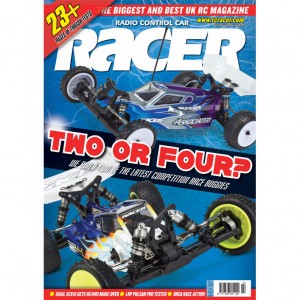 Features
He's Been Wild for Years – John Weston reflects on the Wild Willy range that started out as a jeep model and has evolved into many different forms with the VW Type 2 Camper and Honda City Turbo.
German Dominance at TC Euros – LRP enjoyed great success not only at the touring car European Championships when their leading team driver Ronald Völker won, but in 1:8 off-road too with Davide Ongaro and Neil Cragg putting in strong performances.
RC4WD Hop Ups – The Axial SCX10 is a popular platform and unsurprisingly there are many upgrades out there for the chassis. Fortunately RC4WD decided to cherry pick a range of option parts for our long-term Axial chassis so we could treat it to some bling with some very cool accessories and upgrades.
Style Police – With some help from the team around him, Olly Jefferies feels that he has got himself back to winning ways after a tough time on the race track and after adapting his driving style, is looking forward to finishing the season strongly.
Moss Returns With A Win – After missing a couple of BRCA rounds, Simon Moss made a successful return with TQ and the win for Yokomo in 4WD whilst Team Associated's Neil Cragg gave the B6 its first national victory in the UK at Oaklands Raceway. As a result, Neil and Simon have blown the battle for the championships wide open.
Sliding to Victory – Not only did the national racers have to get to grips with the challenging demands of the fastest track on the calendar, but the weather would also add to this with sporadic downpours as the series headed north and Halifax.
Bloomfield Puts in Title Charge – The third round of the BRCA National Championship for 1:8 off-road took place at the popular Herts track – a local and popular venue for many of the leading title contenders, one of which was Darren Bloomfield who took the win for Agama and Bullitt.
HV Compatibility – Catering for the latest technology of high-voltage LiPos, LRP's new Pulsar Pro charger is right up to date with the ability to charge their Outlaw packs to 4.4V per cell instead of 4.2V that other models are restricted to, therefore unlocking even greater performance for your RC model.
Reviews
TLR 22-4 2.0 – Team Losi Racing has a long history of updating their race platforms by incorporating all the lessons learnt and refinements accumulated by their global team drivers. The Twenty Two-Four platform is the latest to receive the mid-cycle upgrade with the arrival of the new 2.0 version.
Tamiya DT-03 Racing Fighter – Tamiya have traditionally updated their entry-level 2WD off-road buggy on a regular basis and the Racing Fighter is the new-for-2016 model so our seasoned club racer takes a look at the model that features just enough upgradability to be able to race if you're starting out.
Team Associated B6 – Team Associated may have released a kit with an image of Spencer Rivkin and his World Championship-winning trophy on it, but this was really a stopgap as the US brand developed the RC10B6 that we build and race.