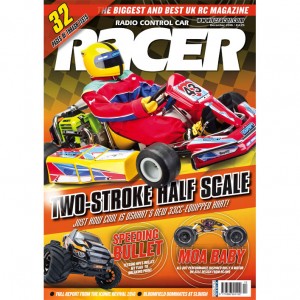 Features
24 LRP WC Winners
German driver Ronald Völker added to LRP's tally of world championship titles by winning the touring car category in China with his Blue is Better-equipped Yokomo and this rounded off a very successful season for the race team.
40 Chin Up, 2017 Awaits
It was a frustrating outdoor touring car season for Olly Jefferies as despite being one of the favourites for the national title he could only finish third. In this month's column he underlines his strengths including consistency as well as working on weaknesses and improving his car's set-up on bumpy tracks.
52 Down to the Wire
The 2016 season would see the battle for national honours go down to the final round and the two to watch would be Darren Bloomfield and Elliott Boots who were separated by a single point, but it was the former who was on form and looking for a hat trick of wins in a row at Slough.
56 Reflection on Perfection
This month's Iconic Column sees John Weston hand over the keyboard to four of the racers who took part in the 2016 Iconic Revival. In the first part of this feature we focus on the 2WD element as Iain Groom, Nick Stokes, Alex Tudor-Hart and Leon Dyson relive their weekend.
68 The Revival – Just Getting Better and Better
The annual Revival is a date that is one of the first to go into many racers' calendars as soon as it is announced and for good reason. The weekend is great fun for drivers, family, friends and spectators alike, with lots of on-track fun throughout the two days and a worthy charity to reap the rewards.
74 Harper Hands Grainger the Title
Schumacher racer Elliott Harper dominated the final 1:10 touring car weekend of the BRCA National Championship at West London Racing Centre, handing the overall win to Chris Grainger.
Reviews
THE LATEST THRASH TESTS.
32 Arrma Granite Mega RTR
Nowadays £150 or so can buy quite an impressive piece of RC equipment that will suit the first-time buyer with a balance of power and control. Jerry Ibbotson puts the latest fun-packed Granite Mega to the test and finds out what this 1:10 off-road monster truck has to offer.
56 Magnetik Penguin Oskart
Make no mistake this 1:2-scale RC kart is still pretty big and will take up all of the boot space inside a full-size car. But with that large size comes realism and it has this in spades complete with on-board driver who is connected to the working steering wheel and pedals.
60 HPI Bullet MT Flux
The 1:10-scale monster truck is fitted with a 4WD drivetrain, powered by a brushless system and is capable of running on 11.1V LiPo. To make sure that drivers of all abilities are able to control the beast, HPI include one of their own 2.4GHz radio systems,
80 RC4WD Bully II MOA RTR
From the USA is RC4WD's new Bully II MOA rock crawler that has clearly been designed for ultimate performance with its Motor On Axle design. That said as it is a Ready-To-Run model it comes pre-built and just requires some detail work and the addition of a suitable model to get it up and crawling as we found out on the rocks of Cornwall.
Regulars
NEWS, LETTERS, DATES, NEW PRODUCTS AND OUR VIEWS.
8 News
GT12 World Championships announced for 2017, Agama taking both the National and Junior Championships in 1:8 off-road as HB's David Ronnefalk takes the E-buggy Euros title.
14 Inside Lines
All the latest stuff including kits, accessories, option parts and much more.
20 Editorial
Is bigger better?
20 Who, What, When and Where?
Three pictures from the past but who are they?
21 Time Warp
What was happening one, five and ten years ago.
73 Coming Up
What you can expect to see in the next month's issue of Racer.
79 Dates
Plan your schedule for the next few months with our racing calendar.
90 Club Racer
Nemo Nitro X Cross rounds 13 and 14, Schumacher BTCC/KO GP at West London and LRP-HPI-Challenge at RCCT-Münden, Germany.
96 Buyers Guide
Where to shop in your area with Racer's comprehensive store guide.
99 All Over
Finding out the hard way that the saying, "Buy cheap but twice" still stands…