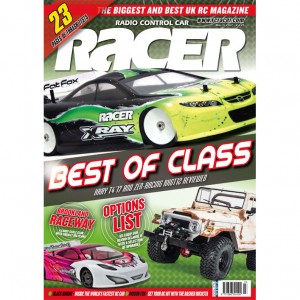 REVIEWS
32 XRAY T4'17
The 2017 spec T4 touring car from Xray debuted at the
2016 World Championship in Beijing, China where Bruno
Coelho took a dominant TQ. The car features a number
of design changes over its predecessor including a new
chassis design and revised in-line flex adjustment being
the two main ones in a long list that as usual, is an
evolution of the platform rather than a radical overhaul as
we found out…
42 ZEN-RACING RXGT12
The RXGT12 is Zen-Racing's second GT12 chassis release
in what is an incredibly competitive and growing sector
of RC racing. The RXGT12 is the natural successor to
the RSGT12 and is the result of many hours testing and
working to find the best possible weight distribution
and balance. Zen-Racing has aimed to make for a
car that is easy to work on with a simple design and
layout. Naturally they haven't forgotten the handling and
performance, which they also claim is improved with the
new car.
60 BASHER ROCKSTA
The RockSta is a 1:24-scale four-wheel steering mini rock
crawler. Perfectly sized for the living room or rockery,
the RockSta can handle tough mini trails due to its low
centre of gravity, aforementioned four-wheel steering
with steering mixing, motor on axle design, locked diffs
and solid axle suspension. If you want some great fun it
doesn't get better than this sub-£50 RTR.
Features
YOUR INSIGHT INTO THE BEST OF RC CARS, PEOPLE AND TECHNIQUES.
24 A Very Swedish Christmas
Tamworth has long been the Christmas home of LMP12, and this year it was Alexander Hagberg, the Swedish European Champion, who took home the wins.
52 Swede Thoughts
Now based in Bedfordshire the World and multiple European Champion has been contesting many of the BRCA national rounds with his Xray cars. Racer caught up with Alex Hagberg to get his thoughts on the UK racing scene.
54 Record Holder
We get to see what's inside the official fastest RC car in the world courtesy of Tony Lovering, the owner of Black Knight.