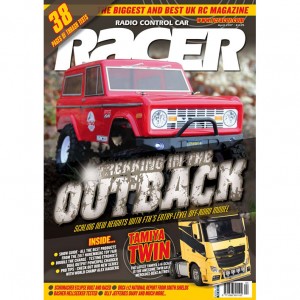 Features
OJ Goes TC
This month's diary piece from Olly Jefferies offers advice on touring car set-up and runs through basics of what to do in certain scenarios.
What's New in The Old Town
The historical town of Nuremberg in Germany is the place to be in early February as the RC industry amongst others descends on the Messe for the annual Toy Fair.
Pro Tips
Xray factory driver Alex Hagberg looks at the best way to tighten your wheel hexes as well as the ideal position to mount your TC body.
Roche Cleans Up
South Shields hosted the latest round of the 2016-17 BRCA 1:12 Nationals and saw the new Roche car clean up.
A Day at LRP With Herr Krämer
This month's column focuses on Andy Krämer's role at LRP as a project manager.
Doubling Up
The popular Etronix PowerPal Touch charger from Etronix is now available with a dual output.
Reviews
Schumacher Eclipse
The Schumacher Eclipse has already proven its pace and we were very interested to see how the newest 1:12 race car performed on the track.
Absima ATC 2.4
Absima offers their ATC 2.4 touring car platform in two different RTR forms and in the first of our two reviews we get our hands on the brushed example.
FTX Outback Treka RTR
Their new Outback targets the crawler/trail market with locked axles at both ends, a brushed motor set-up and waterproof speed control. The bumpers come with pre-installed LED lights and you can choose from three body styles.
Tamiya Mercedes-Benz Actros 3363 6×4 GigaSpace
The latest 1:14-scale Tamiya truck is another Mercedes-Benz in the form of the 6×4 Actros 3363 model.
Basher HellSeeker
The HellSeeker is Basher's 1:16-scale mini monster truck that features a twin 2S LiPo capable brushless power system, and puts the power down through a solid 4WD drivetrain..