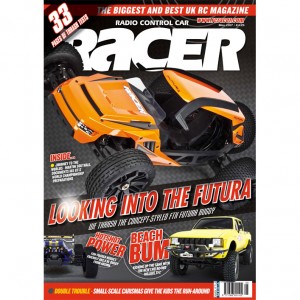 Features
24 Two Decades and Counting
This issue sees Racer reach a milestone and our first magazine of volume 21 so we reflect on how we thought the industry would change in the next ten years back in 2007.
40 Flow Chart
The Flow X speed control was just one of LRP's new releases that they showed off at the Nuremberg Toy Fair with an updated LiPo battery line-up and new Antix monster truck.
68 Martin's The Man
Just what does it take to prepare for the biggest race meeting of your RC career? In this article Martin Southall looks back on the work involved and the event itself as he gains a much sought after entry for the GT12 Worlds.
74 Swift Battles
The Schumacher and Roche teams went head to head at Swifts Raceway with Elliott Harper, Matthew Varah and David Spashett showing top form.
88 Pro Tips
This month sees Alex Hagberg take a look at fine-tuning the positioning of added weight in his touring car as well as a great tip for quick and easy rear wing adjustment.
90 Reading Material
Many of our readers many not have been around 30 years ago, but the hobby was very vibrant and RTRs, brushless and 2.4GHz were many years away.
Reviews
32 FTX Futura
With their latest off-roader, FTX have gone down the large-scale route with this 1:6 concept buggy that not only looks cool but also has plenty of power for the driver to unleash!
42 RC4WD Mojave Trail Finder 2 LWB
The Trail Finder 2 goes long wheelbase with their latest version that sports a Mojave four-door body design.
52 Absima Hotshot AB2.8 BL
The AB2.8BL from Absima is an off-road buggy powered by a combination of LiPo battery and brushless system. Featuring the ABECO system, the AB2.8BL is designed to offer high performance from a single battery.
60 Tamiya 1:16 RC Jagdpanzer IV /70(v) Lang
The Editor of sister magazine TMMI, Marcus Nicholls builds the new 1:16-scale RC Jagdpanzer IV /70(v) Lang. It's a tank that combines traditional plastic modelling with RC and the ability to be driven on all surfaces