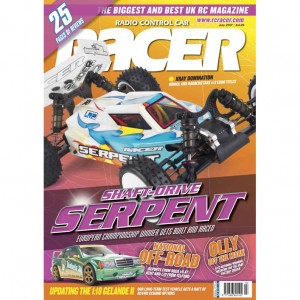 Features
14 Vector X22
Jurgen Lautenbach discusses the new X22 motor and also his company's recent success at the Neo Race with Davide Ongaro and Akio Sobue at the AOC Shanghai.
24 Cragg Loves Kent
Round two of the BRCA National Champs were held at Kent and saw a great performance from Team Associated with Neil Cragg dominating
28 Pro Tips
This month, Alex Hagberg runs through some of the settings he has on his Sanwa M12S transmitter as well as a great tuning tip with regard to a LiPo.
52 Doing the Double Double
This year's EFRA 1:12 European Championships were run at Racing Arena Limburg in the Netherlands that saw Alex Hagberg and Hupo Hönigl retain their titles.
56 Yardy Masters Telford
Telford would host round one of the 2017 BRCA National Championships in 1:10 off-road with Team Associated's Neil Cragg taking the 2WD and Tom Yardy dominating 4WD fro Schumacher.
70 Two Become One
It was a hard decision, but one that proved to be right when on-road star Olly Jefferies curtailed his 1:12 racing to focus solely on touring car.
74 New For Old
Re-releases have become an important part of modern day RC with the likes of Kyosho, Team Associated and Schumacher announcing updated models of old favourites as John Weston finds out.
80 CCHand(y) Upgrades
Kevin Dent goes through the RC4WD options list and selects a range of CCHand parts to give his 1:18-scale Gelande II a proper makeover.
84 Up for the Cup
The first of four Iconic Cup rounds for Tamiya on-road cars took place at Stafford. Catering for F1, M-Chassis, Stock Touring Car 4WD, Stock Touring Car FWD and GT Touring Car, the event attracted a large turnout of racers.
88 Olly's a One-Day Winner
As the BRCA National Championship for touring cars reverted to a single day competition, it was a former champion Olly Jefferies who got his modified title campaign off to the best start.
Reviews
32 Tamiya TT-01E Mercedes-Benz 190E 2.5-16 Evo.II
Using the popular and proven TT-01 Type E chassis, Tamiya's latest release features the very distinctive design green and gold Diebels Alt scheme.
42 Team Associated B64D
The B64D is the first of two 4WD off-road buggies to be released by Team Associated replacing the ageing but highly successful B44 platform.
60 Serpent Spyder SDX4
The latest Gerd Strenge designed 4WD car has a familiar look and has already won a European Championship title. We got our hands on the latest all-wheel drive Serpent platform and headed to a new track to put it through its paces.