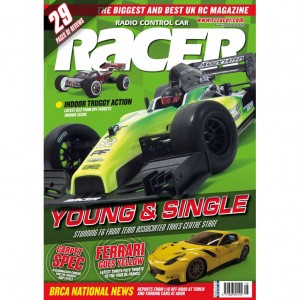 FEATURES
YOUR INSIGHT INTO THE BEST OF RC CARS,
PEOPLE AND TECHNIQUES.
12 AUSTRIA AND ANTIX NEWS
In their latest column, the LRP Action Team head to Austria
for the Modellsporttage event setting a new world record at
the event whilst the Antix range expands with a new line of
HV-LiPo battery packs.
24 TORCH SPOILS SHARED
Once again in was Neil Cragg and Lee Martin who saw
honours shared between Team Associated and Yokomo as
the second BRCA 1:10 Off-Road National Championship
round took place on the south coast at the impressive
TORCH venue.
30 CLUB FOCUS
Bingham Model Raceway invited John Weston up for their
open day and found out that it is being run by some familiar
and experienced faces from the Nottingham area.
40 UP FOR THE CUP
The first of four Iconic Cup rounds for Tamiya on-road cars
took place at Stafford. Catering for F1, M-Chassis, Stock
Touring Car 4WD, Stock Touring Car FWD and GT Touring Car,
the event attracted a large turnout of racers.
52 IT'S A TIGHT FIT
RC4WD's Tightfit Topper is designed to be fitted above the
rear bed on their popular TrailFinder 2 model adding some
more storage space as well as offering the owner some
added customisation.
54 OLLY'S ON A ROLL
After a dominant win at West London, Olly Jefferies
travelled to Adur for round two of the BRCA 1:10 TC
Nationals and completed another sweep of TQ and the win
to make him the championship favourite in modified for
2017.
68 HIGH-SPEC CHARGING
The range of Revolectrix chargers are brought into the UK
by battery specialists OptiPower. Naturally they recommend
using a quality charger like the GT1000 Duo to best look
after your investment so we put the unit through its paces.
74 THE SHIZ A SHIZUOKA
Shizuoka is the home of Tamiya and their annual show is
used to show off their latest items. The Hobby Show is not
just about the one brand though as Alan Harman found out
on his Japanese trip.
76 KINGFLY UPGRADES
Upgrading your wheels can transform the look of your RC
model so Joe Brown takes a look at these ranges from
KingFly Racing including some cool slick tyres.
88 THE BEST OF AN ERA
This month's Iconic Column offers a reference guide from
the team listing most of the off-road buggies that are
eligible for vintage racing. Broken down into the classes
for both 2WD and 4WD, each has got its own Star and Icon
that highlights the most competitive model and the one that
stands out the most for each period.
REVIEWS THE LATEST THRASH TESTS.
32 TEAM ASSOCIATED RC10F6 FT
Hot on the wheels of the competition, Team Associated now
have their own formula car available and their first one
comes in Factory Team spec to target high-end racing. The
new model focuses on performance, adjustability, durability,
and style, with adjustments and options included out of
the box. We hastily got our review sample built so we
could get to the track quick to find out what the American
manufacturer has to offer this rapidly growing class.
44 HPI Q32 TROPHY TRUCK
following on from the success of the incredibly popular
buggy model, the Q32 Trophy Truggy RTR comes with a
red camouflage design as well as corner markers and a
mini ramp to test your skills on. The mechanics remain the
same as the proven buggy with a compact size and direct
rear-wheel drivetrain for simplicity and neatness. We put
the Trophy Truggy through its paces to find out just how
much fun you can hand with a such a small model…
60 TAMIYA TT-02 FERRARI F12 TDF
The yellow Ferrari F12 plays homage to the epic automotive
competition on French circuits and streets that Ferrari
won seven times called the Tour de France. Based on the
RC model first introduced at the end of 2015, Tamiya have
faithfully reproduced the sleek road racing machine that we
gave to our scale specialist Kevin Dent to build and finish to
his usual impeccable standard.
80 SCHUMACHER COUGAR KD
The latest Cougar release comes in two options with the
KD for dirt and KC for carpet and Astroturf. With specific
models targeting the different racing surfaces, one thing
you can be sure of is the right car for the job, and the KC
comes with four optional motor positions with all the parts
required included in the box. We spent some time building
their newest 2WD off-roader up, poring over the details of
the model as usual.
REGULARS
NEWS, LETTERS, DATES, NEW PRODUCTS
AND OUR VIEWS.
8 NEWS
Neil Cragg and Lee Martin battle it out at TORCH in 1:10
off-road whilst Olly Jefferies continues to reign supreme at
the TC Nationals. Schumacher announce the Cactus Tyre and
racing legend Mario Andretti gets his hands on a famous
Tamiya model.
18 INSIDE LINES
All the latest stuff including kits, accessories, option parts
and much more.
20 EDITORIAL
Super Sunday
20 WHO, WHAT, WHEN AND WHERE?
Three pictures from the past but who are they?
21 TIME WARP
What was happening one, five and ten years ago.
73 COMING UP
What you can expect to see in the next month's issue of
Racer.
79 DATES
Plan your schedule for the next few months with our racing
calendar.
92 CLUB RACER
X-Factory UK report on the second round of UK SC Nationals
as Schumacher bring us up to date with the latest BTCC
event from Bedworth.
96 BUYERS GUIDE
Where to shop in your area with Racer's comprehensive
store guide.
99 ALL OVER
Should you be lucky enough to enjoy a windfall, just what
would you spend it on? The Old Time Racer has it all
planned out that's for sure!